Wednesday is set to be a key day in the battle to buy Manchester United, with interested parties reportedly told to submit second, revised bids by a deadline of 9pm.
It is not known how many bidders there are or if some, rather than seeking full control, are offering to support the current owners, the Glazer family, with significant investment.
However, there are two parties who have chosen to make their intentions public in Sir Jim Ratcliffe and Sheikh Jassim bin Hamad Al Thani, and both are looking to make a full takeover.
Here, the PA news agency looks at these two confirmed bidders.
Sir Jim Ratcliffe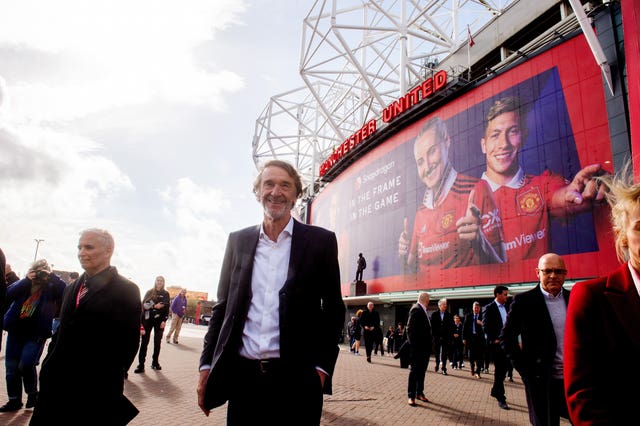 The 70-year-old Manchester-born businessman is one of the richest people in Britain, with an estimated personal wealth of approximately £6billion. A boyhood United fan who grew up on a council estate, he founded the chemicals firm Ineos in 1998 and oversaw its growth to become a company now worth an estimated £50bn.
His interest in sport has become well known in recent years. He owns French Ligue 1 side Nice and Swiss Super League outfit FC Lausanne-Sport, as well as the cycling team Ineos Grenadiers. Last year he submitted a bid to buy Chelsea, where he once held a season ticket, but ultimately lost out to the American Todd Boehly.
His bid would be funded through Ineos.
"We would see our role as the long-term custodians of Manchester United on behalf of the fans and the wider community," read a statement from the company.
"We are ambitious and highly competitive and would want to invest in Manchester United to make them the number one club in the world once again."
Sheikh Jassim bin Hamad Al Thani
The Qatari sheikh is the chairman of Qatar Islamic Bank, one of his country's biggest banks. His father Hamad bin Jassim bin Jaber Al Thani is a former prime minister of the Middle East state. There is relatively little information about him in the public domain, but it is known he attended boarding school in the UK and went on to the Royal Military Academy at Sandhurst, during which time he apparently fell in love with United.
Amid potential controversy about state ownership of clubs, Sheikh Jassim was clear when announcing his bid that his interest was a private initiative through his Nine Two Foundation. He hopes to take 100 per cent control of the club and has vowed, if he does so, to wipe all debts and invest considerably in the club and its infrastructure and support local communities.
"The bid plans to return the club to its former glories both on and off the pitch, and – above all – will seek to place the fans at the heart of Manchester United Football Club once more," a statement read.
"The vision of the bid is for Manchester United Football Club to be renowned for footballing excellence, and regarded as the greatest football club in the world."