Arsenal goalkeeper Aaron Ramsdale said a post-match incident with a Tottenham fan left a "sour taste" after his side's north London derby win.
A spectator jumped over the advertising hoardings from behind the goal as the players clashed at full-time. The fan was quickly restrained by stewards but not before apparently aiming a kick at the England international.
Ramsdale told Sky Sports: "The Spurs fans were giving me some throughout the second half, I gave them some back, which to the few people I did do it to, was probably well-greeted, sportsmanship-like.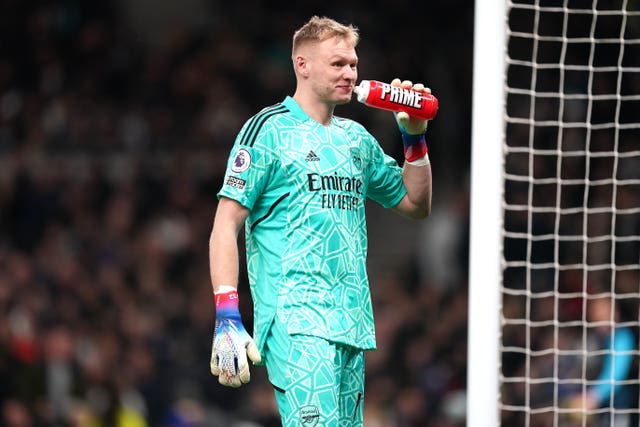 "Then a fan tried to jump over and give me a little punch on the back. That's what happened and it's a shame because it's just a game of football at the end of the day.
"I think both sets of players tried to bring me away. Thankfully nothing actually happened too drastic. It's a sour taste, but I'm sure we'll enjoy it when we go back in the dressing room."
A statement on the Professional Footballers' Association's Twitter account after the incident read: "Violence towards players is completely unacceptable. These types of incidents are happening far too often.
"Players have a right to be safe in their place of work. When a player is attacked we expect the laws and regulations that are in place to protect them to be properly enforced.
"As the players' union we treat this as a priority issue. We will be continuing to work with the authorities to demand that players and staff are better protected in their place of work."
Former Arsenal and England striker Lianne Sanderson tweeted: "That idiot that kicked or tried to kick @AaronRamsdale98 should be banned for life. Hate seeing things like that. What on earth is wrong with people."