Aleksandar Mitrovic has apologised for grabbing referee Chris Kavanagh during Fulham's FA Cup defeat at Manchester United.
Fulham boss Marco Silva has also said sorry for his dismissal in his side's 3-1 quarter-final loss earlier this month and he too regretted his actions.
Mitrovic was shown a straight red card for handling Kavanagh after the referee awarded a penalty and dismissed team-mate Willian for deliberate handball.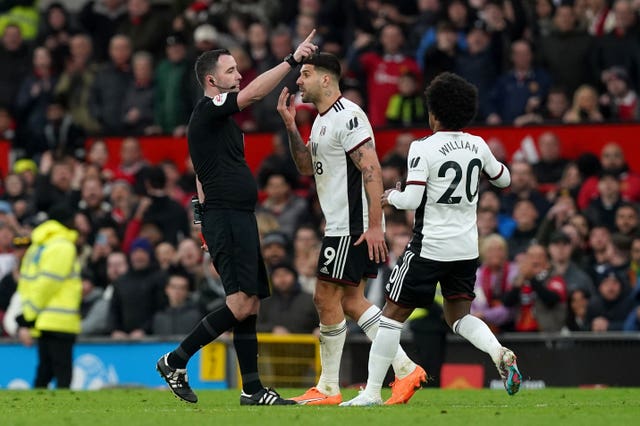 The Serbia striker, waiting to learn his punishment after being charged by the Football Association for violent conduct, said his reactions were "wrong" and that he had apologised to Kavanagh.
Silva has been charged with multiple misdemeanours, including improper conduct, improper behaviour and abusing match officials.
Mitrovic said he had had time to reflect "a very emotional" match while on international duty.
He said: "On a personal level, I regret my actions that led to me being sent off. I allowed my frustration to get the better of me, and how I reacted was wrong.
"I was trying to get the referee's attention, but I appreciate that I should not have put my hands on him and I understand why he showed me a red card, my first in-game sending off for Fulham and my first since the 2015-16 season."
The Football Association have since announced the standard punishment for Mitrovic's dismissal – a three-game ban – would be "clearly insufficient".
Mitrovic added: "I have accepted the three-match ban for my red card, I have spoken to Chris Kavanagh to apologise, and I have volunteered to accept a club fine.
"I now want to do what I can to put this incident behind me and get back to helping my teammates on the pitch as soon as possible.
"In the meantime, I would like to reiterate my regret that this happened. I have already said sorry to my team-mates, but I would also like to apologise to the Fulham fans, particularly those who travelled to Old Trafford to support us and who did not stop singing all game. I hope to be back soon and repay their faith and support."
Silva, who has also been separately charged for comments made about Kavanagh after his side's meltdown at Old Trafford, said he should have handled "a very difficult moment" better.
He added: "I regret what happened and I have spoken to Chris Kavanagh to apologise.
"He knows that I respect him and the job he has to do. Unfortunately, we did not see eye-to-eye on the day, but I recognise that he is one of the top referees in this country and I know that, when our paths cross again, there will be mutual respect between us.
"I am sorry that I was not on the pitch to try to lead the team to what could have been an historic FA Cup semi-final at Wembley, but I am thankful for all the support I have received from Fulham fans over the last few days."