New Manchester United goalkeeper Andre Onana cannot wait to create his own legacy at Old Trafford after he completed his move to the club on Thursday night.
United reached an agreement with Inter Milan to sign Onana for an initial 51million euros (£43.8m) with add-ons on Tuesday, and the 27-year-old has now sealed his switch to the Premier League club.
Onana has signed a five-year deal and targeted helping boss Erik Ten Hag secure more success.
He said: "To join Manchester United is an incredible honour and I have worked hard all my life to get to this moment, overcoming many obstacles along the way.
"Walking out at Old Trafford to defend our goal and contribute to the team will be another amazing experience. This is the start of a new journey for me, with new teammates and new ambitions to fight for.
"Manchester United has a long history of incredible goalkeepers, and I will now give everything to create my own legacy in the coming years.
"I am excited by the opportunity to work again with Erik ten Hag, and I can't wait to play my part in the success I know he is determined to deliver at this great football club."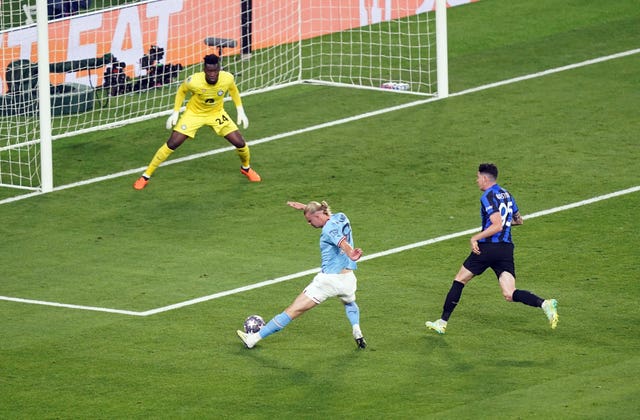 Onana worked with Ten Hag at Ajax, having spent time in Barcelona's academy before he established himself at the Eredivisie outfit.
After a successful six years in the Netherlands, where he won three league titles, the shot-stopper signed for Inter in 2022.
During his solitary season in Italy, Onana helped Inter reach the Champions League final and win the Coppa Italia.
After long-serving goalkeeper David De Gea was allowed to leave United this summer, Ten Hag placed Onana at the top of his wish list and has been reunited with the Cameroon international.
United football director John Murtough added: "Andre was our top choice to become the new goalkeeper for Manchester United, with exactly the right profile of technical attributes and personality.
"Having achieved success throughout his career, we know that Andre will further add to the winning mentality we are building within our squad.
"He is already one of the world's best goalkeepers at the age of 27 and we firmly believe that he can develop even further over the coming years."
Onana was banned for 12 months by UEFA in 2021 after testing positive for the diuretic Furosemide, but the suspension was reduced to nine months as he claimed he had accidentally taken the medicine prescribed for his wife.
He was able to resume his career with Ajax before he joined Inter a year later and the 27-year-old paid tribute to his old club in an emotional Instagram post.
"I never imagined that a farewell would be so hard. A year ago I became a Nerazzurro, many people told me that this club and this city had something special. Now I can confirm it," Onana said.
"In my first days as a Nerazzurro I realised that this is a family, that being Interisti is a way of understanding life.
"I fell in love with San Siro, la Curva and the city. Now the circumstances are right for me to start a new journey in Manchester. I do it with great enthusiasm, but knowing that I will miss you. Eternal gratitude to all involved. You make this club great.
"Maybe one day our paths will cross again, but now it's time to face new challenges and cheer you on from afar. Players come and go, but the club always remains, and Inter is above everything and everyone."
While United have secured their new number one, speculation continues over the futures of fellow keepers Tom Heaton and Dean Henderson.