Manchester United manager Erik ten Hag says there is no place in football for the kind of reckless Andy Carroll tackle that has ruled key midfielder Christian Eriksen out for the next three months.
The 30-year-old has played a vital role as United fight on four fronts, making 31 appearances in all competitions, but will now have to watch from the sidelines after suffering an ankle injury in Saturday's 3-1 FA Cup win against Reading.
The club said he will be out for an "extended period" following the challenge by ex-Liverpool striker Carroll, who was later sent off, and that "initial assessments indicate that Eriksen is likely to be out until late April or early May".
Speaking shortly after United confirmed the severity of the injury, Ten Hag said: "Of course he's disappointed about it, we are disappointed about it.
"But it happens in top football and you have to deal with it."
Ten Hag's anger at Reading striker Carroll's thoughtless challenges, though, was clear.
The veteran frontman avoided a booking for his tackle on Eriksen early in the second half, which was swiftly followed by yellow cards for fouls on Tyrell Malacia and Casemiro.
"I am disappointed about that," he said of the lack of a booking for Carroll's challenge on Eriksen. "I think football has to set limits, restrictions, that you protect the players.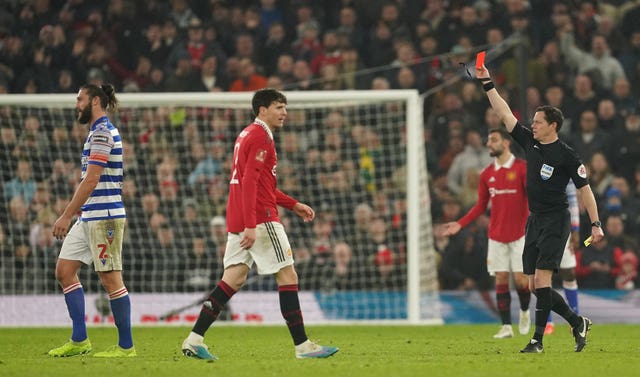 "I think what football wants is the best players being available on the pitch.
"This tackle and the two tackles after… they don't belong on the football pitch because it's a high risk to injure your colleague, so I think it's worse. So, I am wondering about that.
"For instance, I am wondering more in Crystal Palace when there is an elbow on (Lisandro) Martinez and I don't even know if it was a whistle for a free-kick. But no one is interfering then.
"I am wondering about such things because it's a risk of injury for the player."
United have already lost Donny van de Beek for the remainder of the campaign and Ten Hag has revealed Scott McTominay is sidelined with a muscle issue.
"Of course it's a concern but there are things you have to deal with," he said of injuries. "You can't do anything for it.
"You can set the squad but if in January at this moment Donny is dropping out for the rest of the season and Christian Eriksen for the coming part of the season – then also Scott McTominay is not available I think also for the coming week, two weeks, maybe even longer – that means we have a challenge there.
"But we have quality players there, that is also obvious, but in the depth it's not that good any more but we have a team to deal with that."
The injury to Eriksen has rocked United as they head into a season-defining month that kicks off with the second leg of their Carabao Cup semi-final, with Ten Hag's side heading into Wednesday's meeting with Nottingham Forest leading 3-0 from last week's first leg at the City Ground.
"We have the perfect chance to go to Wembley and to bring a trophy in," he added. "Therefore we have to focus and we have to gather the energy, we have to gather the good gameplan for tomorrow.
"I think it's all about that and we have to do it with the players who are available. It is a strong team tomorrow."