Ange Postecoglou is excited about the role "leader" James Maddison will play in helping implement his style of football at Tottenham.
Maddison completed a transfer worth £40million plus add-ons to Spurs last month after five years with Leicester where he won the FA Cup and scored 55 goals in 203 appearances.
England midfielder Maddison had been tracked by Tottenham since he was a teenager at Coventry and officially begins work with the club on Wednesday when the next group of international players, including Harry Kane, return.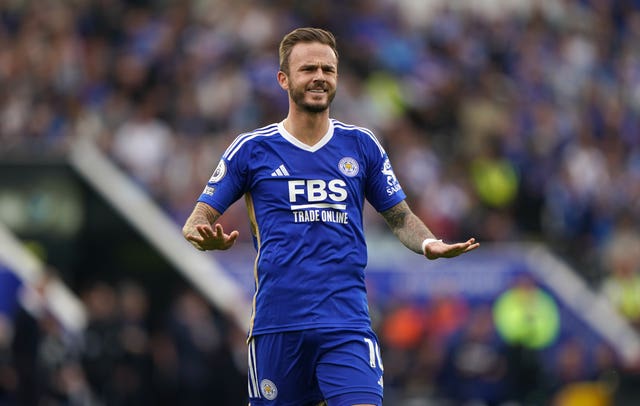 His new boss feels the playmaker will be key to the sizable task of getting a squad accustomed to pragmatic, counter-attacking football now in sync with the aggressive, possession-based style set to be used by the Australian.
Postecoglou said: "Really excited to get James as part of the group.
"Any manager will tell you that part of the key to being a dominant team is having multiple attacking threats and having a midfielder who can score and create goals.
"They're not easy to come by. He's proven himself at that level in the last few years as somebody who can do that.
"When you look at Tottenham the last few years, they've been really reliant on the front three to get their goals.
"I thought it was a really good fit for us to look for a player like James – even better if we could get James, so we ended up getting James.
"I was really pleased and the fact we did it early was great because it allows him to have a break. He's had the birth of twins so I don't know what shape he'll be in when he gets here!
"But once we get him in, it means he can come on the tour with us and I know he's really excited about joining the group.
"He obviously knows a few of the lads and I think he's in a stage of his career where it feels like he can be a leader, which is great as well because we need players who want to embrace that responsibility within this group.
"Whether it's their first year in or they've been here for ages, we're going to need leadership on the field and he feels like he can be a player who does that."
Postecoglou held his first press conference since switching Celtic for Spurs on Monday and struck the right chord between confidence alongside realism.
Tottenham finished eighth in the Premier League last season – using three different head coaches – but more significantly have spent the last four years playing counter-attacking football.
Gradually it wore down a disgruntled fanbase impatient for success with no trophy since 2008 and while a return to an aggressive, front-foot style will be welcomed, Postecoglou is aware rebooting a squad used to a certain way will be no mean feat.
He added: "Absolutely that will be the biggest challenge and that's what I'm concentrating on at the moment.
"We don't have the whole group here but the guys we have, it's about changing that mindset and changing the way the players see the game and maybe their roles within in.
"Because even with the positions they play, there's going to be adjustments in how I want them to do things. Again, I love that. That's why I'm here.
"If it was just me rolling up and they're going out there, doing their thing, it wouldn't excite me. That's part of the challenge – it will be a shift from the way the club has played for three or four years.
"In terms of how quickly the players embrace that, the new players coming in will help. That's the part I have control over, whether that's James Maddison or Guglielmo (Vicario) in goal.
"They're players who fit in the direction I want to go in, which helps. Then it's about seeing with the existing group how many of them are able to adjust and embrace the way we're going to play."