Antonio Conte praised Tottenham for bouncing back from a miserable week with a vital win over Nottingham Forest and reiterated another top-four finish would be the equivalent to a Premier League title for the club.
Harry Kane's first-half brace was followed up by Son Heung-min's smart finish early in the second half to secure a 3-1 home win that moved Spurs six points clear of fifth-placed Liverpool.
It was Tottenham's first victory in four games and lifted the pressure on Conte after recent FA Cup and Champions League exits
"There are 11 games to go and we needed today to bounce back to show that we are strong mentally and in this type of situation the morale can be really down but instead I see the right spirit, the right fight and the right desire to get the three points," Conte said.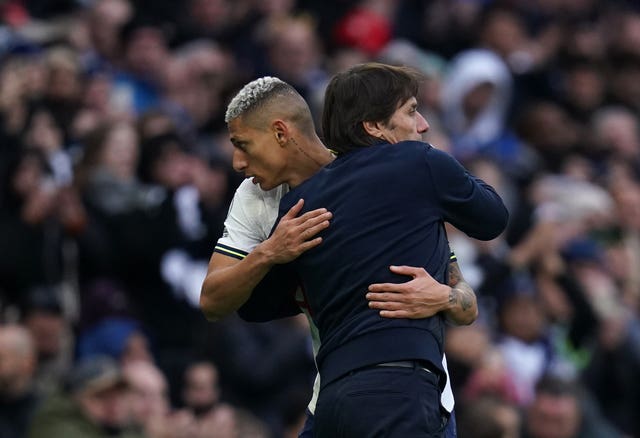 "For sure I repeat for us to finish in the top four is like to win the Premier League. It happen last season and I spoke about miracle.
"I continue to say maybe this season it be much more difficult, much more difficult because Liverpool is a competitor in this race. Newcastle is a competitor but Newcastle is a different Newcastle to the past. They invest a lot of money and they have a strong team.
"See Chelsea and what happen and their position, but I don't consider Chelsea outside because Chelsea has the possibility to win the last 11 or 12 games in a row because the squad is really, really strong.
"We have to think to ourselves. Before during an interview, they ask me about Liverpool and today Liverpool lost but we have to think to ourselves. A top club looks to themselves, not to look at other results and see."
Kane stole the show in the first half but all eyes were on Richarlison initially after he started despite his explosive post-match interview after Wednesday's 0-0 draw with AC Milan.
Richarlison had a goal disallowed after three minutes for offside but was involved in Kane's opener, a perfectly guided header into the corner from Pedro Porro's cross, and won the spot-kick for Tottenham's stand-in captain.
It was Kane's first penalty since his World Cup miss against France but he clipped it into the roof of the net to reach 20 goals in the Premier League this season.
Conte added: "No, never (any doubts) but he can kick the penalty also if he is blind.
"We are talking about a player who is a world-class striker and is really important but for me it is really difficult to think and to answer this question.
"We talk about singular achievements you understand? Instead we want to speak about team achievement.
"This is the problem because a singular achievement is yeah, good for the players but at the same time it would be better to speak about to win together and to celebrate a trophy together and then also singular achievement.
"Harry was a good example but not for the goal that he score. For his commitment and his desire.
"Today in my players I have seen the fire in their eyes."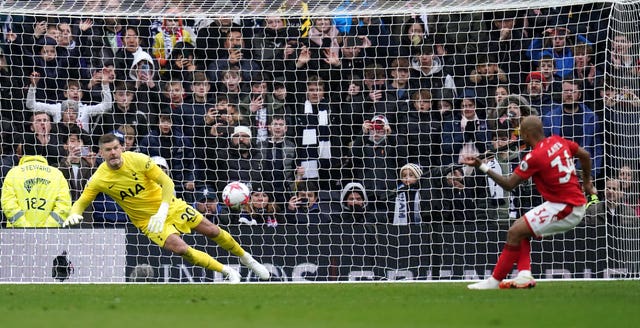 This latest away defeat for Forest was compounded by Brennan Johnson and Chris Wood going off with injuries while back-up goalkeeper Wayne Hennessey pulled out in the warm-up.
"Wayne felt his knee so was unable to go on the bench," Steve Cooper explained.
"Brennan went off with a groin strain, which we don't know how bad it is. We'll see over next day or two.
"And Woody goes on and in first moment of game he gets a bad whack."