Antonio Conte's time at Tottenham is reportedly close to coming to an end after less than 18 months in charge.
His astonishing post-match rant after his side surrendered a two-goal lead to draw 3-3 at Southampton on Saturday may have been the Italian's last act before his departure.
Here, the PA news agency takes a look at his Spurs reign.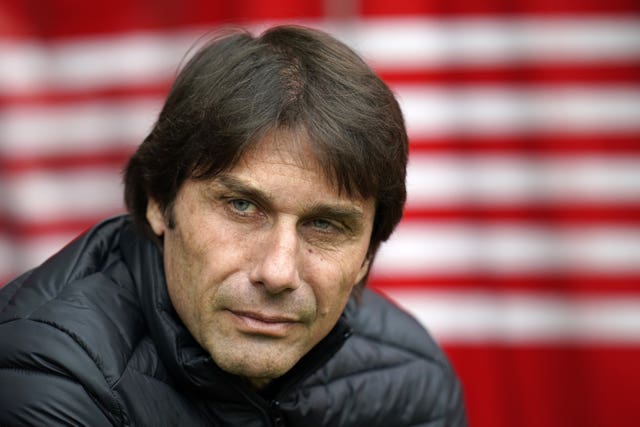 June 2, 2021 – Former Chelsea boss Conte emerges as a surprise contender to take over from Jose Mourinho. The two parties hold extensive talks.
June 4, 2021 – Talks with Conte break down, with Nuno Espirito Santo eventually getting the job.
November 1, 2021 – Nuno is dismissed and Conte emerges as the front-runner to take over.
November 2, 2021 – Conte is confirmed as Spurs' new head coach, signing an 18-month contract.
November 25, 2021 – Tottenham suffer an embarrassing 2-1 defeat to Slovenian side NS Mura. In an explosive post-match interview he says he is not a "magician" and claims the level of players is low.
January 5, 2022 – Conte effectively calls Spurs a mid-table team after a first-leg loss to Chelsea in the Carabao Cup semi-final.
February 19, 2022 – Spurs rip up the form book as Conte masterminds a stunning 3-2 win at Manchester City.
February 23, 2022 – Defeat at Burnley leaves Conte questioning whether he is the right man for the Spurs job in a bizarre post-match interview. He later claims this was a strategy.
May 22, 2022 – A 5-0 final-day romp at Norwich ensures Spurs beat rivals Arsenal to the top four. Conte calls the achievement as good as winning a trophy and suggests he is committed to the club.
May 24, 2002 – Optimism for the future is high as Spurs' owners announce they are investing £150million towards a summer transfer kitty.
October 1, 2022 – Spurs are beaten 3-1 at Arsenal, kick-starting an inconsistent campaign, where Conte continually refuses to talk about his long-term future.
October 6, 2022 – Tottenham – and Conte – are in mourning after their much-respected fitness coach Gian Piero Ventrone dies following an illness.
December 16, 2022 – Conte suffers more grief as friend Sinisa Mihajlovic dies.
January 6, 2023 – Another close friend Gianluca Vialli dies after a battle with cancer, leading Conte to cancel his pre-match press conference.
February 1, 2023 – Conte falls unwell after his side's cup win at Preston and has his gallbladder removed in emergency surgery in Italy.
February 11, 2023 – His expedited return to work does not start well with a 4-1 defeat at Leicester.
February 16, 2023 – After his side lose 1-0 in their Champions League last-16 first leg at AC Milan, Conte's doctor orders more time off to recover fully from his surgery.
March 1, 2023 – Conte watches on from Italy as Spurs limp out of the FA Cup with a 1-0 defeat at Sheffield United.
March 8, 2023 – Spurs are knocked out of the Champions League by AC Milan in Conte's return to the dugout. Conte says to Italian media he could be sacked before the end of the season.
March 18, 2023 – Conte goes on a 10-minute tirade against his players after they blew a 3-1 lead to draw against Saints. He accused them of being "selfish", not being able to play under pressure and lacking fighting spirit, saying he could no longer "hide" his real feelings.