Martin Odegaard insists Arsenal "don't care" about Manchester City as they remain focused on their own impressive form in the Premier League title race.
The Gunners opened up a five-point lead at the top of the table following their last-gasp 3-2 win over Manchester United on Sunday.
City are their closest challengers but the reigning champions have played a game more than Arsenal, who they meet in the FA Cup fourth round on Friday night.
View this post on Instagram
The two have also yet to face one another in the league this season and, despite their advantage, Arsenal boss Mikel Arteta said after the United win that City remain the best team in the division.
Odegaard, though, has no interest in what City are doing – Pep Guardiola's side having closed the gap from eight points to just two before the United victory.
"No, honestly, we don't care about City or any other team," the Arsenal captain replied when asked if there was more pressure on the game because of City's two wins.
"We expected them to win so that was not a big surprise and we just focused on our game, to come here and win and that's what we did. The way we won this game gives us a special feeling that will help as well.
"It's a long season. We're just halfway through, there are many games to be played so we have to stay calm and humble. Our only focus is the next game and that's all that matters. We have to stay focused like this."
Arsenal now sit on 50 points, their best-ever total at the midway stage of a Premier League season, eclipsing even that of Arsene Wenger's Invincibles.
Such form has now made them many people's favourites to win the title for the first time since that 2003-04 campaign, but Odegaard will not be letting minds shift away from the task at hand.
"It's way too far ahead to think about that now," he added.
"We have to stay in the moment, everyone should enjoy the moment. We're doing really well but we have to stay calm, it's a long way to go and we have to keep working and improving. Then we'll see."
Marcus Rashford had put United ahead with a fine strike before an Eddie Nketiah header took the sides in level at the break.
Bukayo Saka's curling effort had Arsenal in front and after Lisandro Martinez equalised with his first United goal, Nketiah settled the contest with a last-minute winner.
United had been talked about as outsiders for the title after their derby win over City last weekend, but since then a late goal saw them pegged back to draw at Palace before the same fate saw them leave Arsenal with nothing.
"It is about details. If you are not focused on every detail, you can't win," Martinez told MUTV.
"We have to be strong and we have to learn also from every experience. It cannot happen again, for sure it cannot happen again.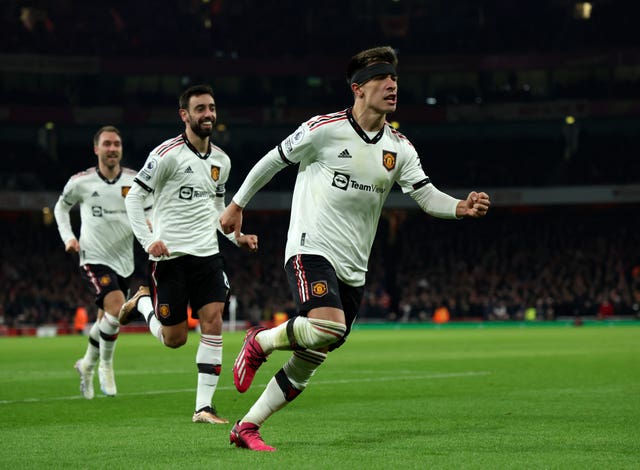 "We have to be really focused on the game and we have to kill the game. We have to win.
"For sure, it is a dream to score my first goal here in Manchester United. I am really happy with that, but in the end it was not the result that I want. We have to keep going.
"We don't have a day to be sad. We have to go tomorrow and change. We have to go for the next one."