Benoit Badiashile is in contention to start for Chelsea against West Ham on Saturday despite being ineligible to play for Graham Potter's side against Borussia Dortmund next week.
The visit to the London Stadium is the team's last match before their European campaign resumes in Germany on Wednesday, with the 21-year-old January signing having been excluded from the manager's Champions League squad alongside striker Pierre-Emerick Aubameyang.
Potter reiterated that he is happy with Aubameyang, who flew to Milan after being left out of the squad to face Fulham last Friday, praising the player's attitude and playing down reports he could be about to leave Stamford Bridge on loan.
The manager hinted that both players could be in line to feature against West Ham before attention turns to Dortmund.
"The most important thing is to focus on West Ham," said Potter. "That's the best way to prepare for any future game. We're really happy with Benoit, he's available and he's in our thoughts for West Ham, then we have to make a decision on Wednesday. But we worry about that after West Ham."
He added: "Nothing to report (on Aubameyang's future). He's been training with us this week, training really well. Conducting himself well, really good professional, supporting his team-mates. Whilst he's here he's doing exactly what I expect him to do, which is to train well and to act well.
"Going away from home in the Premier League is not straightforward,  everybody knows that. The problems we've been having in terms of injuries, it's something we're trying to address."
Badiashile has impressed alongside Thiago Silva at the heart of Chelsea's defence since joining for £32.7million from Monaco, with the team yet to concede a goal in the three games since he came into the side.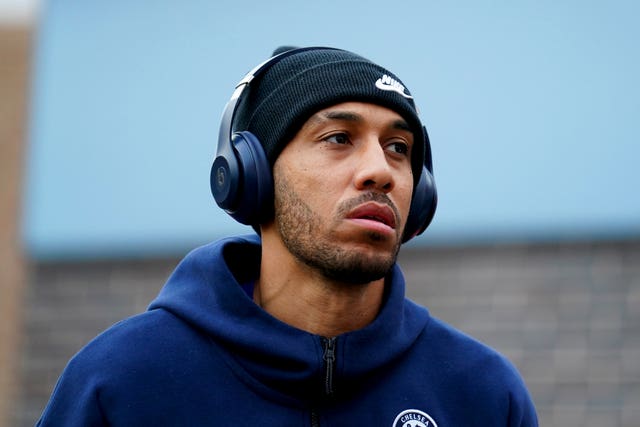 He was left out of Potter's Champions League selection with the manager preferring to add more attacking reinforcements ahead of the knockout rounds, opting instead for new signings Enzo Fernandez, Mykhailo Mudryk and Joao Felix.
Loan-signing Felix will be available to face West Ham in what will be his first appearance since being sent off on his debut against Fulham in January, though none of Potter's injury absentees are ready to make a return as he seeks to close a 10-point gap to the Premier League's top four.
"We all saw his impact (Felix) in his 60 minutes before the red card," said Potter. "You can see his quality every day. He's a player that can make a difference for us. At the same time it's about helping integrate into the team, and for him to understand what we're trying to do. But the signs are really positive.
"There'll be lots of talk around pressure and time. If I'd had a month of time for every time I've been asked the question, I'd be here for about 10 years. That's just the nature of it.
"I'm not stupid. If the results aren't what this club should get, and I'm the reason for it, then that's the job. In the meantime, I go through the process of working with the players, helping them improve, helping them come together.
"It's a complicated situation at the moment. But I'm really excited for it, looking forward to it, really looking forward to the challenge that awaits us. I don't worry too much about the absolute time scale of it all."