Mikel Arteta accused officials of "changing the rules" as he claimed Brentford's equaliser at Arsenal should have been ruled out for offside.
Arsenal had to settle for a share of the spoils after Ivan Toney's header cancelled out a first Gunners goal for Leandro Trossard as Brentford left the Emirates Stadium with a thoroughly deserved 1-1 draw.
Arteta's side had lost at struggling Everton last week and this result leaves them six points clear of Manchester City.
However, their main title rivals host Aston Villa on Sunday before travelling to the Emirates Stadium on Wednesday night for a game which could prove pivotal.
Arteta, thought, felt a lengthy VAR check for Toney's goal should have resulted in the effort being ruled out for offside against Ethan Pinnock.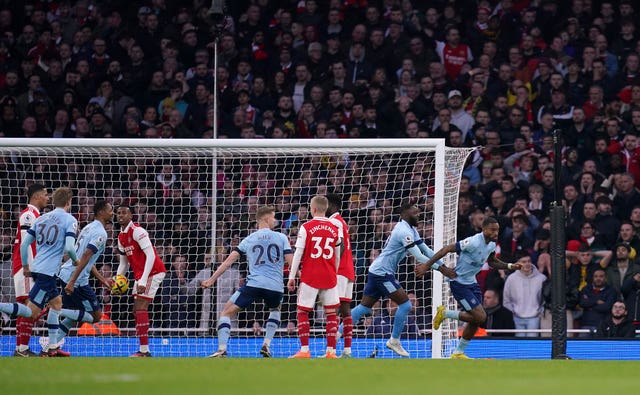 "I just looked back and it is offside, yes," he said.
"The action when you get blocked when you are offside. You cannot block if you are offside.
"I'm hoping the cameras and the visuals, maybe it looks like there were two actions. I don't know. It's too late, it's fine, the goal was allowed and we dropped two points.
"I'm saying the second one (an offside call against Christian Norgaard) – I don't know because you have to see the line the way they see it with the cameras. I don't know. It's irrelevant. It's gone.
"We always assess the game with them (the Premier League) and we give our views and our points. But it's too late.
"They will probably give an explanation later in the week. Today we haven't got one. You have to apply certain principles in defending and you do that by sticking to the rules, suddenly you change the rules and then you have to change your principles.
"So tell us before so then you don't hide the line that high, because you're always going to have an advantage if you get blocked."
Brentford head coach Thomas Frank has masterminded wins over Manchester United, Manchester City and Liverpool with draws coming against Chelsea, Tottenham and now Arsenal.
Frank felt his side were deserving of all three points at the Emirates Stadium but believes Arsenal remain favourites for the title.
"I said to players before the game that we needed our best performance because Arsenal have been so good," he said.
"We got very close to that. I said to the boys you can't celebrate a point no matter who you are facing. But we can celebrate a very good performance. It was more than well deserved.
The point also extends Brentford's unbeaten league run to 10 matches, something that appeared to surprise even Frank himself.
"We have this secret sauce at the training ground that we give to the players every lunch – no I wish it was that, that would be a good story'," he joked.
"It's insane that it's possible for us with the second lowest budget to be unbeaten and all 10 games well deserved wins or draws, it's not like we're crawling over the line… that's maybe even more impressive."
Asked about the controversial offside call, Frank added: "I agree that when they kicked the ball, Ethan is in an offside position.
"Then as far as I know the football laws, the next question is did he influence the cross? They decided it was not enough and I agree."