Mikel Arteta has backed Bukayo Saka to deal with the rough treatment he receives from opponents but feels the Arsenal winger can also do more to help his cause.
The PA news agency understands Saka is close to signing a new, long-term deal at the Emirates Stadium, with the England international top of Arsenal's goals and assists charts this season.
The 21-year-old has not missed any of Arsenal's last 65 league games, the longest run in the division, as Arteta's side travel to Leicester on Saturday looking to stay top of the table.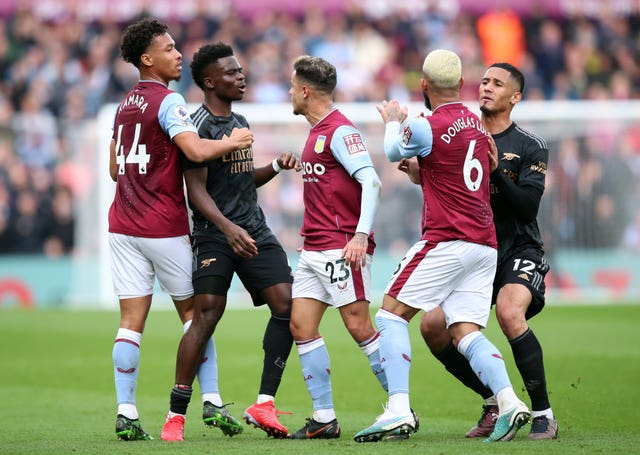 Saka has been under the spotlight in recent weeks over a perceived lack of protection from officials, with just four yellow cards shown to opponents from 40 fouls.
"There is a lot of focus now on Bukayo, and we need to keep that in mind as a team with the plans that we put together, understanding what the opponents are doing, but for sure referees have their responsibilities and they have to do their jobs," Arteta said.
"If you ask him how it used to be when he was 10, 11, 12, 13, 14 – it isn't very different. Wingers and talented players get kicked and fouled and get the demand to win games and that is the chance he has, that is his role in the team.
"But we have to train that and he needs to learn when to take certain balls, what to do with that ball, how to use his body, when to jump.
"There are a lot of things we can train, but obviously it is very difficult to understand what the opponent is going to do.
"It is normal creative players want to be stopped and they (the opposition) want to restrict the ball getting into them, occupying and exploring certain spaces. What we have to try to do is completely the opposite."
Arteta was tight-lipped when asked about Saka's impending new deal but believes contract extensions for the club's best assets show the current process is not a short-term one.
"We want to keep our best players. The players that we are developing. We want to create a long-term project here and we need our best players at the club," he said.
"When it's done, I can tell you more. But obviously we have the intention to extend the contract of our players and, when it's done, it's great news for the club."
Arsenal will be hoping to have Thomas Partey fit and available for the trip to the King Power Stadium, but it comes too soon for Gabriel Jesus, who is still recovering from a knee injury.