Graham Potter says Chelsea are "looking into everything" to try and halt an alarming run of form that has seen them win just once in 2023.
The Blues have lost their last nine matches in which they have conceded first, and confidence visibly drained from the team once they went a goal down early in the second half of last Sunday's 2-0 defeat by Tottenham.
There is yet to be a clear sign that players signed in January at a cost of £315million are gelling into a cohesive unit, with the loss against Spurs another example of the team failing to create chances despite the money spent on attacking talent.
Potter said he and his players are suffering, with their hopes of qualifying for next season's Champions League all but extinguished following the surrender in north London.
Some reports have suggested that the owners' attitudes to the manager's long-term future, until now unwavering in their support, have begun to shift, and that the next two games against Leeds and Borussia Dortmund will be make or break for Potter.
With neither results nor performances showing signs of improvement, he was asked whether his side's poor record of recovery when falling behind suggested a problem with mentality.
"You can imagine the moment we're in, we're looking into everything," said Potter. "You want to understand what's happening and how you can improve it. I don't want to get bogged down in context or reasons. We are where we are, we have to work to improve it.
"Sometimes you end up in a moment in a season where you do suffer, and I think that's clear. We've got the results that we have, it would be strange if there wasn't that effect. It isn't because they're not trying, or lacking character. It's because you're trying to find a way together.
"It's a team that's been brought together over a couple of windows, quite a significant change. In terms of a strong team, it's hard to get that at this point. Sometimes, when you need to go through those tough moments, that bit isn't there.
"Sometimes you gain strength from these moments. That's how you come through as a team, to suffer. As it is, we're not there, and I have to help the players get there."
Chelsea face strugglers Leeds at Stamford Bridge on Saturday looking to score at home for the first time since January 15, when Kai Havertz headed in against Crystal Palace. Since then, the team have scored once across six games in all competitions.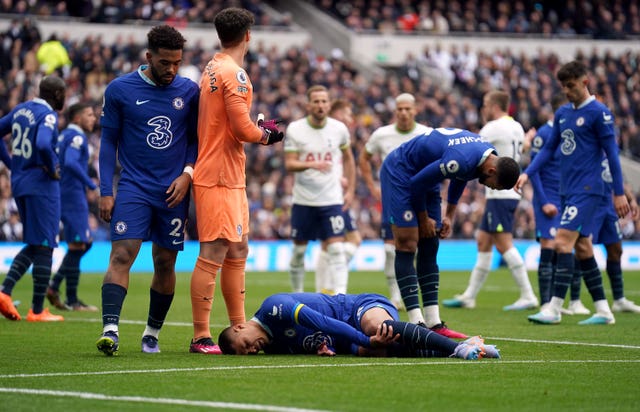 After three straight clean sheets in January and February, they have now let in five goals in their last four, with new signings Enzo Fernandez and Joao Felix badly at fault in allowing Spurs to take the lead through Oliver Skipp on Sunday. Harry Kane was also left unmarked from a corner late on as Chelsea's fate was sealed.
Defender Thiago Silva went off injured in the first half and will miss the next six weeks with a knee ligament injury, depriving the team of one of their most influential leaders.
Potter challenged his players to live up to Silva's example and fill the gap left by his absence, and referred again to the importance of suffering in forging a winning mentality.
"You're always going to miss a player and person of Thiago's quality," he said. "At the same time, it's an opportunity for other players. Wesley (Fofana) is coming back after a long injury, we've missed him. He's a different kind of personality to Thiago but he has qualities as well. It's a challenge and it's exciting for a player to develop into a role.
"There's no doubt there's people in the squad that can step forward and add more in terms of performance and leadership. We're in this moment where we have to be honest and say we want to do better.
"In order to get to this point, you've had to suffer in your career previously. Otherwise you wouldn't be able to face the inevitable bad times when they're here. In this job, you have to win, but you also have to be able to handle when it's not going so well, because otherwise the place burns down and you don't get a chance to get the results."