Frank Lampard insisted a lack of hunger is not a part of Chelsea's problem after they slumped to a third defeat in a row against Brighton, repeating his concern that a lack of training time is standing in the way of the team's recovery.
Chelsea's schedule has meant Lampard has had limited opportunity to work with his players at Cobham since being appointed last week, with matches and European travel meaning he has largely been restricted to light training and conversations with the squad.
The 2-1 home loss to Roberto De Zerbi's side was as comprehensive as any the team have suffered on their recent poor run, with a clear gulf in cohesion and attacking threat as Brighton moved 10 points clear of their hosts.
Conor Gallagher gave Lampard's side the lead in the first half – ending their run of four games without a goal – but the visitors hit back through Danny Welbeck before half-time then won it with a screamer from teenage substitute Julio Enciso.
"We need to be more difficult to play against (at home)," said Lampard, whose side have not won any of their last four matches at Stamford Bridge.
"That step will bring 'now we start to feel more confident'. You talk about confidence at the minute, I don't think confidence is the thing. I think it's the work to build confidence. Because there is talent in that squad.
"At the minute there have been more conversations and meetings than training pitch stuff. We haven't had the time. Training pitch stuff is all walk-through, a pretty low level because of the legs. Talking individually to the players.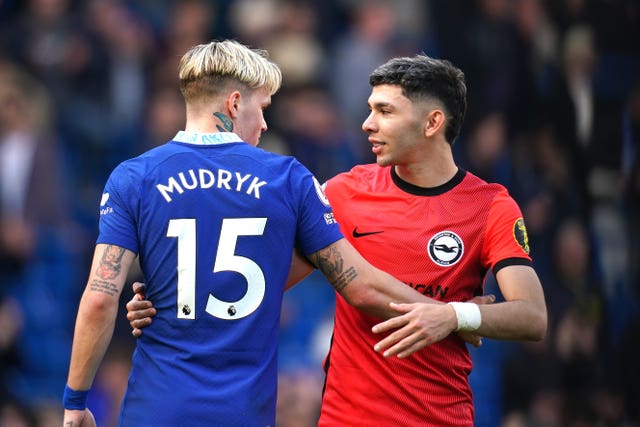 "When we get a chance to work, I think the team needs some physical work. We need that, it's important for us. At this level, we have to be right on the limit. I'm not sure we're on the limit now. That can be a bit of a capacity thing."
Lampard made six changes to the side that lost 2-0 to Real Madrid in the Bernabeu on Wednesday, with Joao Felix, Reece James and Mateo Kovacic significant absences. All three came off the bench in the second half at 1-1 as the interim manager looked to turn the tide of Brighton's dominance.
That meant opportunity for players who have struggled to force their way into the side lately, including goalscorer Gallagher and winger Mykhailo Mudryk, who set up the goal and gave one of the best performances of his short Chelsea career.
It was not enough to alter the team's fortunes, but Lampard pointed towards confidence rather than a lack of hunger as the principal stumbling block.
"I think (talking about) hunger is really questionable," said Lampard. "When some players are lacking confidence, it can really be visualised as a hunger thing.
"But sometimes if you're a yard short, then you're a yard short. If you're receiving the ball and you're not confident, you take your first touch backwards. That can sometimes look like a hunger thing. I don't feel that.
"I will back the players absolutely that they're hungry to be successful as Chelsea players. At the minute we've got to find all the things that get you to that.
"With Brighton, it's been a long process of work, good work that's got them to that place. Brighton, two or three years ago when I was here and they came to the Bridge, it was a completely different game. Where we are now, we just have to work. But I don't see the hunger (problem)."