Tottenham assistant Cristian Stellini has acknowledged the mentality at the club must change if they are to end their trophy drought but insists no-one is happy with just a top-four finish this season.
Spurs suffered a painful FA Cup exit at Sheffield United on Wednesday, which means their long wait to win silverware again will likely extend into a 16th year.
Antonio Conte is currently set to join Jose Mourinho and Mauricio Pochettino in failing to add to the club's trophy cabinet but his assistant insisted it is not a simple task.
Stellini said: "It came from a long time, not just this season. Sometimes better and sometimes not good, but every season it is similar, so it's a problem that Tottenham is out in the fifth round of the FA Cup.
"We have to change this and we want to change this when we speak to each other and if we can in the future we can change this.
"This is the most difficult thing. You have to find this (hunger) inside you, in the dressing room, inside of the players, inside of the staff, inside of the club because everyone participates to create this kind of atmosphere and how important it is to win games, to win in general and how you feel when you don't win a game.
"I don't know what happened (before). I know what's happening now and I know what I want to change, the way we want to change.
"We must live the experience and learn from the experience. We had the experience last season and we have to learn from that. This is the starting point. We will see what happens in the future.
"The mentality is the reality we showed in the last game. This is the mentality. The approach was not good and it's not the mentality we need.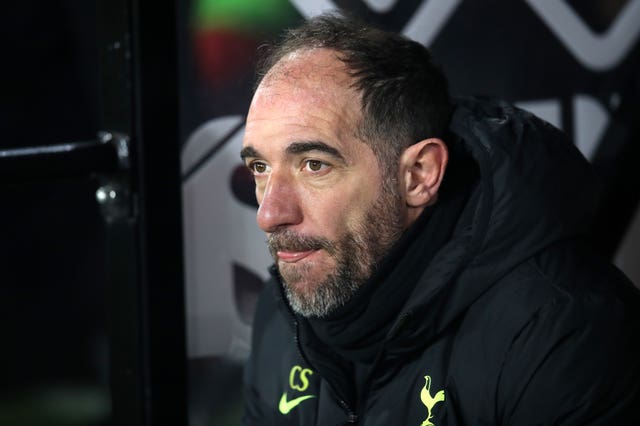 "We have to change from this starting point to the future. What happened in the past is done, finished. We have to start from now.
"I'm not here to analyse what happened in the last 10 years. I'm here to analyse what happens from now into the future.
"Every game is different but the approach has to be the same against every team and in every type of competition."
Stellini again defended the decision to rest Harry Kane in midweek and insisted if anyone thought differently they should have spoken "before the game" at Sheffield United.
He admitted Conte was frustrated to miss Saturday's clash at Wolves where Spurs will aim to stay in control of the top-four battle.
But Stellini refuted suggestions anyone at the club had ever told them they were happy with Tottenham just securing Champions League football every season and not winning trophies.
"I have never heard this," he stated.
"If someone speaks with our staff and Antonio about this, I think this person will have a problem with Antonio and with us because it's not our vision.
"We want to win every game, every trophy, every year."