Crystal Palace chairman Steve Parish insisted the mood around his club remains optimistic following Patrick Vieira's sacking, and threw his full faith behind former captain Paddy McCarthy to lead the side against Arsenal.
A club statement confirmed McCarthy will occupy the manager's seat when Palace travel to meet the Premier League leaders on Sunday, with the under-21s coach set to be supported by his assistant at that level Darren Powell and retained first-team goalkeeping coach Dean Kiely.
Palace have held onto 12th place for nine straight weeks but their recent run of form, 12 matches across all competitions without a win and just five goals, ultimately forced ownership's hand after teams lower down the table closed the gap to leave the south London side just three points clear of the relegation zone.
"The players are fine and everybody is looking forward to Sunday, really," Palace co-owner Parish told Sky Sports.
"The feeling is good. You know, everybody loved Patrick, genuinely. The players had all the time in the world for him. You saw from the performances he never lost the players at all, they were all running and playing for him.
"I think things just weren't happening, so the mood was good, it was fine, but obviously we're hoping that there's a bit of fresh impetus, a few different ideas, maybe we surprise the opposition a little bit doing something different.
"We've got good players, we've got a good squad, we've got good lads. They follow Patrick and they will follow Paddy and they will follow Darren and they will do the best for the football club.
"Everybody is positive and wants to do their best and believes that we can win football matches. I'm not going to tell you it's amazing today because Patrick is gone, because Patrick is a great guy and people loved working with him.
"I'm sure he will go on and be as successful as he was last year for us somewhere else, and he will maybe learn from the bits where it lost its way a little bit, and I really hope he does. It's just football, isn't it?"
McCarthy took the team through training as the news of Vieira's departure broke, and told Palace TV: "Under strange circumstances, the lads showed good energy and enthusiasm.
"Obviously it's a massive moment for myself, but ultimately it's not about me.
"My only focus at the moment is about getting the team prepared and ready for Arsenal in the short space of time that we have, so everything's just going to be geared into that.
"I'll push all of that emotion to one side. Yes, it's going to be a great opportunity for myself and Darren [Powell] to manage at that level, but the focus is solely on setting the game plan and implementing that on Sunday."
Palace are the only Premier League team without a win in 2023 and Vieira's replacement – whether temporary or permanent – will have just 11 games to secure their survival in the top flight, though eight are against sides currently lower down the table.
Parish was adamant it would have been "disrespectful" to interview anyone while Vieira was still in charge, but confirmed the process to anoint a successor was now underway and that the club have a few targets in mind.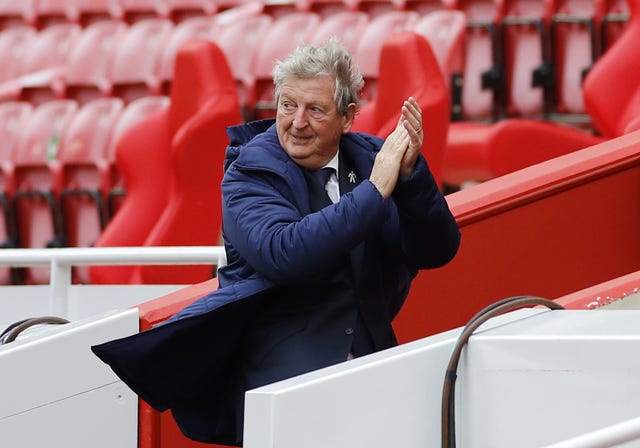 Vieira's predecessor Roy Hodgson is among the reported favourites to take charge, if perhaps just until the end of the season.
The 75-year-old former England manager announced his retirement at the end of the 2020-21 campaign after four years at the helm of his boyhood club, briefly emerging to coach Watford for the latter half of 2021-22 before once again stating he was finished with the Premier League.
Some suggest he could be temporarily coaxed back a final time, and indeed could be the ideal fit for a club who might prefer a familiar, stop-gap solution who could quickly settle in, ensure Palace's survival, and allow them more time to search for Vieira's permanent successor in the summer.
Other names in the rumour mill include Jesse Marsch, out of a job since he was let go by Leeds last month, former Nice and Borussia Dortmund boss Lucien Favre, and Ralph Hasenhuttl, who parted ways with relegation-battling Southampton in November after almost four years in charge.
While Palace currently occupy the same spot in which they finished last campaign, the underlying numbers look starkly different – their total of 21 goals in 27 games this season is fewer than any Premier League team other than Wolves, Everton and Southampton (20) and barely half of their tally, 37, at the same stage last term.