David Moyes feared West Ham would be "caught out" by not spending big last summer before he embarked on a £160million revamp of the squad.
The Hammers have struggled this campaign to build on two years of progress under the 59-year-old, which included back-to-back top-seven finishes and a run to last season's Europa League semi-final.
Their summer transfer spend, which included a club-record £51m on Brazilian midfielder Lucas Paqueta, is yet to yield a return, with a run of six defeats in seven in the Premier League plunging them into the relegation zone.
They face a crunch match against fellow strugglers Everton on Saturday with some reports suggesting Moyes' job will be on the line if West Ham lose.
Despite their struggles, the manager maintains it was the right call to spend big in an effort to keep the club moving forward.
"We had (players like) Mark Noble coming to the end (last season) and we were actually short of numbers, really short," Moyes said in an interview with podcaster Steven Bartlett.
"I felt as if I nearly had to break it up a little bit, because I had seen signs now. My experience, my longevity was telling me 'if I don't do this now then I'm going to feel I'm going to be caught out'.
"We probably didn't do quite as well from January onwards last year, that was my feeling. We had some brilliant nights, we got to the semi-final of European football. In the last game of the season we finished seventh, but we were 10 minutes from finishing sixth above Man United.
"I felt that, now with the age I am, I don't really give a s**t. I'm not going to get many more goes at this. If I don't make a go at it, and I don't really do what I think is right and what I want to do, then I'll regret it."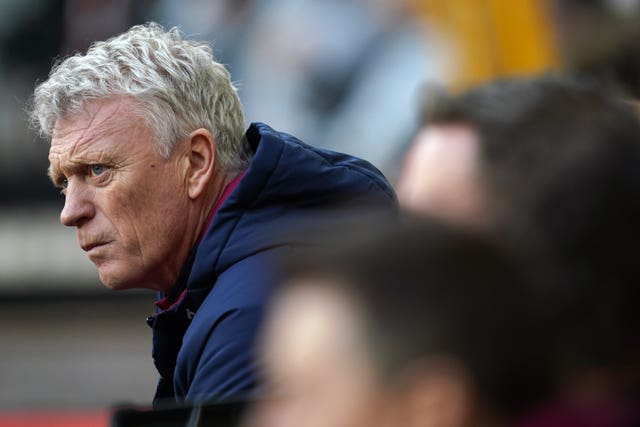 The Hammers' league form, which has seen them pick up a single win in their last 10 games, has been in stark contrast to their European campaign, with six wins out of six seeing them comfortably through to the last-16 of the Conference League. They will discover their opponents in March.
West Ham's reputation abroad benefited hugely from their run to last season's Europa League last-four, making them an appealing destination for the likes of Paqueta and fellow big-money signing Gianluca Scamacca, a £35m buy from Sassuolo.
But after their slump into the Premier League's bottom three following Saturday's defeat at Wolves, Moyes made the case to be given time to build a "new West Ham", with performances on the pitch matching the fine work being done by the club in the community.
"There's part of me said we need to bring in new players and we've gone out and put our head on the block," said the manager.
"We've brought these new players in. Now what I really need is, I hope I can get a bit of time to settle. I think we've brought in good players. I think we have got a better squad. Maybe not a better team at this exact time than what we had last year. But we've definitely got better players.
"I want to build a new West Ham. What does a new West Ham mean? A lot of supporters might not like the thought of that. But West Ham have moved to a  new stadium. It's not been appreciated by everybody. But that's where we're going to be for the next 100 years, that's what it looks like.
"I want there to be lots of young kids coming to West Ham. East End of London is a huge area full of West Ham supporters. A lot of poverty in the area. West Ham offer great ticket prices, great opportunities, they do brilliant work in the community.
"I want to encourage all the young kids. What do you need? You need exciting players so these young kids want to buy a jersey so that they're not just following the top two or three teams in the country. I've tried to change the team. But you know deep down I'd like to say I'm trying to make West Ham better."