Eddie Howe is convinced Anthony Gordon will be a top player for Champions League-chasing Newcastle despite another early withdrawal against Southampton.
The £45million January signing was handed just his third start for the club in Sunday's 3-1 comeback victory over the Saints which tightened their grip on third place, but made way at half-time for striker Callum Wilson.
Gordon, 22, had earlier passed up two good opportunities to score, including clipping the post with a 19th-minute effort after beating keeper Alex McCarthy, although Howe was happy with his contribution since his arrival from Everton and is expecting much, much more from him in the future.
He said: "We've seen glimpses of unbelievable potential. I've got no doubts – I've said this previously – that he'll be a top player for us.
"Sometimes these things take a little bit longer for everyone else to see, but I've got no doubts."
Gordon was also substituted 62 minutes into his full debut at Manchester City and after 56 minutes in the 3-0 defeat at Aston Villa, which came a week after reacting angrily to being taken back off having earlier being introduced from the bench at Brentford.
However on this occasion, Howe insisted the player's reaction had been just what he would have expected.
He said: "His reaction to being taken off was very good – if there can be a very good reaction to it.
"Obviously internally, I suspect, he was very disappointed, but he didn't let that show. There was no outward sign of a negative reaction to that, which you need in that situation.
"If I wanted to introduce Callum, I had to take somebody off. It was a process of that decision, really. I thought Anthony played well in the first half. Our best moments came through him, so it wasn't really a slight on what he had given the team.
"I felt I had to do something to stimulate the group and give Southampton a different problem. I was delighted with the 45 minutes that he had."
Howe's decision paid off handsomely as the Magpies bounced back from Stuart Armstrong's 41st-minute opener to overwhelm a side which had given as good as it got for long periods before the break.
Wilson levelled within nine minutes of his arrival and then, after substitute Theo Walcott had inadvertently turned Sven Botman's header into his own net, scored for a second time after Joe Willock had forced Ainsley Maitland-Niles into an error.
He might have collected his first hat-trick for Newcastle had a late shot not hit the crossbar twice, but he will head into Sunday's vital clash with Arsenal on 15 goals for the campaign and having provided the perfect response to being left out of Howe's starting line-up despite scoring twice at Everton in midweek.
By contrast, Southampton are on the brink, six points adrift of safety with just four games to play and knowing the odds of them staying up are against them.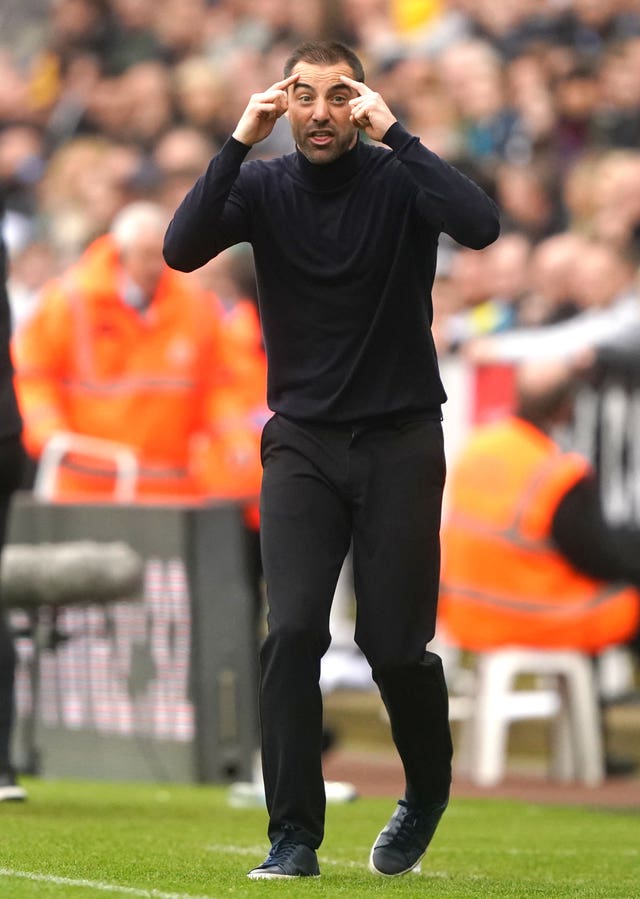 Boss Ruben Selles said: "We need to be more robust. We came here, we showed what we are, but we need to put the performance together for 90 to 95, 96 minutes, and that's why we didn't make it today.
"We just need to continue, try to put those performances in for longer in the game and if one incident or one goal is against us, to still stand there and try to get the very best out of the game."