Eddie Howe has urged his players to "relish" Newcastle's elevated status ahead of their top-of-the-table clash with Premier League leaders Arsenal.
The Magpies will run out at the Emirates Stadium on Tuesday evening having established themselves in third place after a single defeat in their first 17 games – and that in controversial circumstances at Liverpool – to ruffle the feathers of the usual suspects.
They are now being touted as genuine top-four – and in some quarters, title – contenders and while Howe is acutely conscious of how far there is to go in the season, he wants the men who have surprised the rest of the league to enjoy the experience of what lies ahead.
He said: "The players have to keep enjoying what they're doing – that is key to our second half of the season.
"For me, the players shouldn't feel burdened by expectation or any of those types of emotions. They should be relishing the place we're in and enjoying every second, as long as they continue to be united and give everything to continue to achieve consistent results.
"They've looked like they've enjoyed the early part of the season. I think that's been key for our results and I would urge them to keep that focus."
Newcastle's form has been hugely impressive – they are unbeaten in 14 games in all competitions and were denied a seventh successive league victory by Leeds in a disappointing 0-0 draw at St James' Park on Saturday.
However, they face their biggest challenge since the reverse at Anfield when they tackle runaway leaders Arsenal, who will start the match seven points clear of champions Manchester City.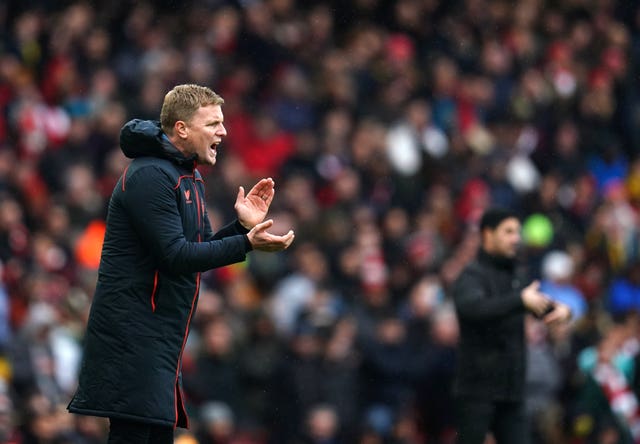 Howe was forced to watch his first game as Magpies boss, a 3-3 home draw with Brentford in November last year from his hotel room after testing positive for Covid-19, but was in the dugout at the Emirates a week later for a 2-0 defeat by the Gunners.
Victory over the same opposition by the same score on Tyneside in May demonstrated significant progress and he is hoping further improvement yields similar dividends on their return to north London.
Howe said: "I have total faith in the players, regardless of where we play, that we can produce a good performance. If we get our game together, we can give anyone a game, and a very competitive game.
"The key thing is that I think the players believe that as well now, but that's always a delicate thing because you have to go and prove it, and Arsenal will be a game where we have to prove we can."