Erik ten Hag told the raucous Old Trafford faithful that Manchester United have a "really good chance" of winning the FA Cup and ending Manchester City's treble charge.
Having wrapped up Champions League qualification by beating Chelsea on Thursday, the Red Devils sealed third spot in the Premier League on the final day of the campaign.
United bounced back from Kenny Tete's early header as David De Gea saved Aleksandar Mitrovic's penalty before Jadon Sancho and Bruno Fernandes sealed a 2-1 comeback win against Fulham.
The players were given a fantastic reception at full-time and, after presenting De Gea with the Golden Glove trophy, boss Ten Hag made an impassioned speech to fans.
"First of all, I want to say thank you to our players," he told the stadium. "I think they played a brilliant season.
"They are also supported by the staff. I want to say thank you to the staff.
"Secondly, I want to thank you (the fans) all. We fought really strong during the season at Old Trafford and away.
"I want to thank you for the season and your contribution backing us, for the support – it was great, so thank you.
"But there is still one game to go and I am sure that these players will give everything to beat Manchester City next week.
"If you have our back, I'm sure we have a really good chance to take the cup back to Old Trafford."
Those comments were met by a huge roar that will increase further still if Ten Hag's men can beat City at Wembley next Saturday and add the FA Cup to February's Carabao Cup success.
"You have always a chance in football," Ten Hag said in the post-match press conference.
"The history shows we beat them in January but I think Man United in the last couple of years beat City many times.
"So, these players know when they play at their levels that they can compete.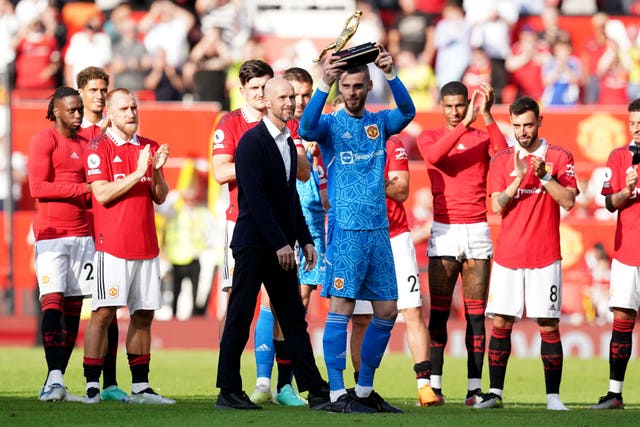 "It's obvious we play against probably – at this moment – the best team, but still there is a chance and we have to go for the chance and we have to give everything.
"We can't be after the game finding excuses for ourselves. I'm sure we will play a good game on Saturday."
Ten Hag knows United have to step up after making a sloppy start against Fulham, saying De Gea's penalty save woke them up.
The United boss again reiterated that he expected the long-serving Spain goalkeeper to extend his contract beyond the end of the season, before seemingly taking a dig at the owners' backing.
Fans called for the Glazers to leave throughout – as they always do – and Ten Hag said he did not get investment like their top-four rivals in January.
The United boss, who was only able to make loan moves for Jack Butland, Wout Weghorst and Marcel Sabitzer, said: "The club knows if you want to play top four, compete for trophies in this tough league, then you have to invest.
"Otherwise you don't have a chance because other clubs will do.
"We have seen it in the winter that all the clubs around us made huge investments. We didn't and still we made it, so I'm really happy and proud of my team."
As for Fulham, they displayed heart at Old Trafford at the end of an impressive season that saw them finish 10th after promotion from the Championship.
Head coach Marco Silva said: "We had very good moments during the game.
"Unfortunately for us, not really consistent during all the match but the way we started we were beginning to control the game.
"We were leading the score and I think it was well deserved because we showed the composure and quality to play, to control most of the moments.
"Of course we had the chance to make it 2-0 and give us even more confidence and create a much-more difficult score for them.
"De Gea saved and of course it was a moment that boosted them. You could feel is straight away in the stadium.
"These are the moments we have to show our maturity, to show more consistency."