Erik ten Hag sees Alejandro Garnacho's emotional side as a strength and hopes the nascent Manchester United teenager starts to contribute more goals.
The 18-year-old has progressed through the ranks since joining the academy from Atletico Madrid in 2020, playing a starring role in last season's FA Youth Cup triumph.
Garnacho made his first-team debut towards the end of the campaign and endured a bumpy start to life under Ten Hag, who was angered by the teenager's attitude during the pre-season tour.
But the Argentina youth international won his boss around and made his 22nd appearance of the campaign on Wednesday, when he missed two great chances to score in the 2-2 comeback draw against fierce rivals Leeds.
It was just the eighth senior start of emerging teenager's career and Ten Hag says he should have added to his season tally of two goals and four assists – a goal contribution every 130 minutes.
"I think he is doing well," said Ten Hag, whose side head to Elland Road on Sunday to face the managerless West Yorkshire side again. "He has an impact on our game. I think he's a threat.
"Also (on Wednesday) he had good actions, was lively, created chances, but had to score. And finally it's about that, that you have an effect.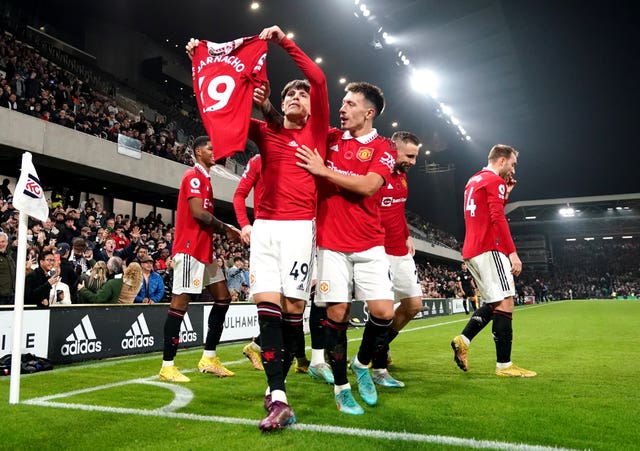 "As a striker you have to be on that list, the scoring list, assist list, key action list to have the right impact.
"Of course we expect him also to do the other stuff but the base stuff is also important and if you can't do the others extra then you have to do that, so that is your base function.
"But a Man United player, we expect you to have an impact, to influence the score, to influence the result, to have a positive influence on the game by scoring goals and having an assist."
Garnacho uploaded an emotional Instagram post after the Leeds game showing him punching the ground in one image and holding his head in his hands in another.
The caption read: "When you don't understand what is happening, remember that God is in control. I trust the plan you have for me."
Ten Hag was unaware of the suggestion that Garnacho looked frustrated to come off in the 59th minute, having days earlier brought the 18-year-old on in the second half only to take him off late on against Crystal Palace.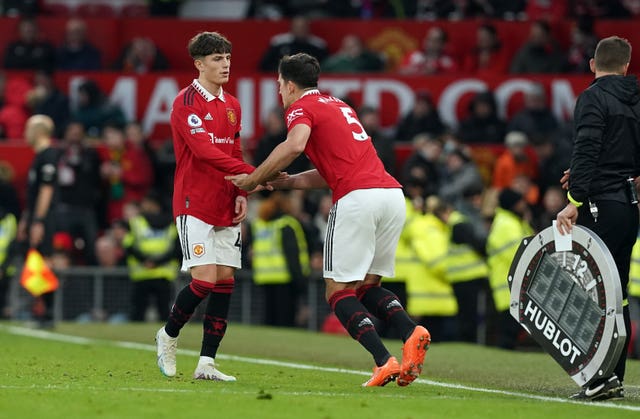 "I don't think it's about that he doesn't understand the decision," the United boss said, referring to the decision to bring on another defender to see out the 2-1 win against Palace following Casemiro's red card.
"He's quite emotional. That is his strength he is bringing in the game. He wants to win. He wants to play football and he doesn't want to miss any minute and I think that's a good thing.
"He's totally convinced about himself. That's a good thing. You need that under the biggest stress factors that you have to perform and he's doing and he wants to contribute to the end.
"But he accepts decisions and the team is always above everything and I think he knows that.
"When he's coming off that emotion, that frustration is not against that, that he's not accepting it."
Garnacho started on the left wing against Leeds on Wednesday, with Marcus Rashford deployed on the opposite flank in the absence of summer signing Antony.
Ten Hag expects the Brazil international to be sidelined once more this weekend alongside Antony Martial and Scott McTominay, with the United boss also fearing the trio will miss next week's trip to Barcelona.
"The last (three) I don't expect but we have some days obviously," said the Dutchman, who is without suspended Casemiro along with injured Christian Eriksen and Donny van de Beek.
"But I don't expect it and if I can oversee it until now, I don't see any new problems coming up."
Asked if Antony, Martial and McTominay would be available for Thursday's Europa League play-off first leg at the Nou Camp, Ten Hag said: "I think same answer. I can't say for 100 per cent but I don't expect it."