Erik ten Hag and his players are following the ongoing takeover talk but the Manchester United manager says there is no chance of their focus wavering as they fight on four fronts.
The Glazer family completed their controversial leveraged takeover at Old Trafford in 2005, with initial success on the field drying up after Sir Alex Ferguson retired a decade ago.
United have not won any silverware since 2017 and Ten Hag took over at a time of palpable fan anger against the ownership given the debt, dividends and perceived mismanagement.
November's announcement that the Glazers were conducting a strategic review brought hope to frustrated supporters, with the sale of United one option being considered.
Friday has been described as the soft deadline for initial offers for United and comes in the midst of a frantic schedule, creating background noise that Ten Hag says will not distract the team.
"We are following it," Ten Hag said. "It's our club and of course we are committed. But we are focusing on football, on training and our way of play, on games. That is what we are focusing on.
"We are really enjoying in the moment with the togetherness. It's enjoyable to work. We are focusing on games and we have four leagues, so others in the club will have to take decisions, give efforts in the process but it's not up to us."
Asked if he had spoken to United chief executive Richard Arnold or any of the Glazer family about what could happen with the takeover, Ten Hag said: "No. Just, I will say, from the start, yeah, they involved me, how the process will (be) going.
"I focus on football. They are focusing on other parts, departments of the club. How to get everything, for instance, financed."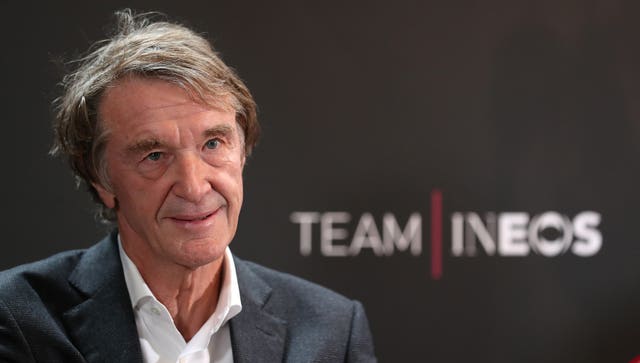 American merchant bank Raine has been brought in to assist United in assessing offers. Bidders reportedly have to submit opening bids by 10pm on Friday.
Boyhood fan Sir Jim Ratcliffe, the founder and chairman of INEOS, is the only individual to publicly confirm they are in the process, while reports of interest from Qatar, Saudi Arabia and others rumble on.
The coming weeks and months promise to be fascinating away from the field, but Ten Hag is squarely focused on making his first season at Old Trafford a success.
The Dutchman has overseen a marked turnaround in culture and performance since joining United in the summer, epitomised by Thursday's 2-2 draw at Barcelona in the Europa League.
It leaves next week's return fixture in the knockout play-off interestingly poised – a high-profile match followed three days later by the Carabao Cup final against Newcastle.
It is a chance to win a first trophy under Ten Hag and United are just five points off the Premier League summit, meaning attention is solely on Sunday's home clash with Leicester in this hectic period.
"The players in our squad like it," he said when asked about the busy schedule after the Nou Camp draw.
"They like it. They like to play big games and they know also as a team and as individuals that you grow from such games.
"Today we are better players, a better team, so that will help us in our process. We are in the right direction, so we have to keep this process going.
"We will analyse again, we will criticise, what went good, what went wrong and we move on. Sunday next game, next big game."
Manchester City went top on goal difference with Wednesday's 3-1 win at Arsenal, shunting Mikel Arteta's men down to second.
United have not won the league since 2013 and Ten Hag is not thinking about ending that wait yet.
"We don't think about that so far," Ten Hag said. "What we have to do is to put us in April in the right position, so our thinking can only be on the next game.
"Always we have to be better than the previous game and think about game for game. But there put the energy and the focus in."
Asked if that means they need to be four or five points behind in April to have a chance of winning the league, Ten Hag said: "It does mean that we have to win on Sunday and that we have to collect the three points against Leicester.
"That demands a lot of energy and demands high standards."