Erling Haaland's elated goal celebration after scoring the winner against Crystal Palace is symbolic of the striker's satisfaction at Manchester City, boss Pep Guardiola believes.
The Norway international's second-half penalty was enough to seal victory on a rainy evening at Selhurst Park after the resilient hosts had largely frustrated Guardiola's side before the break.
Haaland's 78th-minute spot-kick to draw City closer to table-toppers Arsenal extended his Premier League-leading tally to 28 goals and sparked a joyous moment after the final whistle.
Guardiola said: "The way he celebrates his goals and his mates' goals shows how happy he is here and how we are with him and his personality. He is a young lad, and to take the ball there under this pressure and put the ball away with determination and score was great.
"What I would like when I finish our period together is the fact that he could improve the game with the association with the team, with the right tempo, realising how he can be involved in our game, not just putting the ball in the net. Because the net will happen all the time in his life.
"This guy doesn't score one or two goals and the people go, oh he's not the same! He is always there so the numbers speak for itself. One of the biggest attributes I've discovered knowing him and working together is the fact that he can miss one chance, second, he's not getting depressed, he's not sad.
"He's thinking positive, he knows (he) will have the chance, he knows he will be there. And this is an incredible attribute as a football player."
City largely controlled proceedings in south London but were met by a defiant Palace side, still in search of their first win since New Year's Eve, who held them to eight chances before half-time.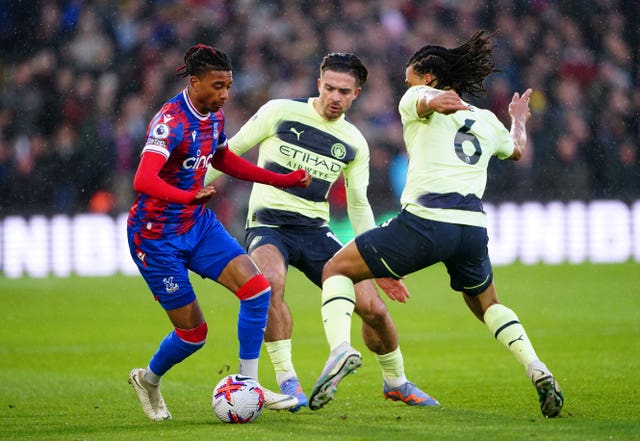 Arguably the biggest missed opportunity came from Haaland, who held his head in his hands after he skied an effort from six yards out.
Redemption came late in the second half when Michael Olise's clumsy challenge on Ilkay Gundogan earned City what proved to be the decisive spot-kick, undoing an otherwise strong showing from the hosts to hold them off.
Guardiola, whose side next host RB Leipzig in the second leg of their Champions League last-16 matchup on Tuesday, pointed out that pressure on his prolific striker should not necessarily be viewed as detrimental.
"It's nice," he insisted. "You have to feel it. If you don't feel the pressure you will be in the bar drinking something, so the pressure you have to live, you have to cope to handle it. The pressure, if you lose you lose the Premier League, if you lose on Tuesday you lose the Champions League, if you lose on Saturday you lose the FA Cup.
"But that is good. That drives you to give your best."
Palace boss Patrick Vieira, meanwhile, is facing a different kind of pressure after his side failed to register a shot on target for a third straight game and increasingly find themselves in the relegation conversation.
He said: "Of course I'm really frustrated because we defended well. We needed to defend well against City and that is what we did. I think we did it really well.
"The frustration is about conceding the penalty. I think that is something we should avoid and the lack of concentration in that moment gave away the hard work from the players on the field today."