Gabriel Jesus admits he was keen to remain involved in Arsenal's Premier League title hunt during his three-month absence.
The 25-year-old forward returned to action last weekend and also came off the bench in Sunday's 4-1 win over Crystal Palace, a result which moved the Gunners eight points clear at the top of the table heading into the international break.
Jesus, a four-time Premier League winner at Manchester City, left the Etihad Stadium to join Arsenal last summer and was a key component of Mikel Arteta's side before the World Cup.
He was forced to undergo knee surgery after picking up an injury with Brazil and watched from the sidelines as Arsenal continued their fine form upon the resumption of the domestic campaign.
While he may have been unable to contribute on the pitch, Jesus had more than a watching brief as he remained integrated within the squad – often sitting in the dugout despite not being available for selection.
"I wanted to be involved," he said.
"I was injured but in my mind I was involved. I was like, 'I need to talk, I need to try to help them with something by talking and seeing the games – so that's why… there were a few players doing that (at City).
"It was a long and very bad injury. Now I am back, fully fit. At the same time I am so happy because the team are doing so good. We keep the distance to second (place), so that's good.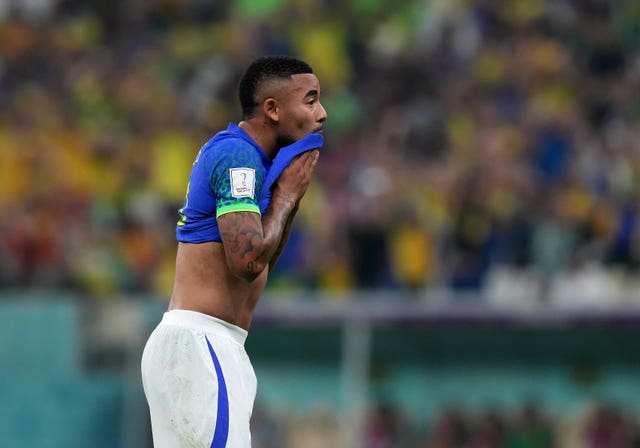 "We are always together, everyone, so that's good. It is not easy to be out for almost four months. I prefer to be on the pitch, helping, running, playing and helping my team-mates rather than be outside. Outside you suffer a lot."
Despite his vital role in Arteta's system, Jesus is without a goal in 14 appearances for Arsenal.
But that does not worry him as he looks to add his weight to a title push which continues when Arsenal host Leeds on April 1.
"The team are doing so good," he added.
"I think no one here is the main man. Everyone is together. When I got injured, we were sure Eddie (Nketiah) could go there and help us – and he did it.
"(Leandro) Trossard came in and did it as well. So everyone is together, to be champions of this big, big competition, we need not only 11 players.
"I believe when you have a good relationships among team-mates. Everything on the pitch works well. That is why we are top of the league.
"We are playing good football. We understand each other. It's very good to be a family."