Pep Guardiola never had any doubt Phil Foden would get back to his best for Manchester City.
The England midfielder scored a superb individual goal to put the champions on course for their 2-0 victory over Newcastle at the Etihad Stadium on Saturday.
The 22-year-old has endured a difficult few months since the World Cup with poor form compounded by injury and illness.
That now looks to be behind him with his excellent 15th-minute strike against the Magpies – although his shot after a mazy run did need a deflection to beat Nick Pope – being his third goal in the last three games.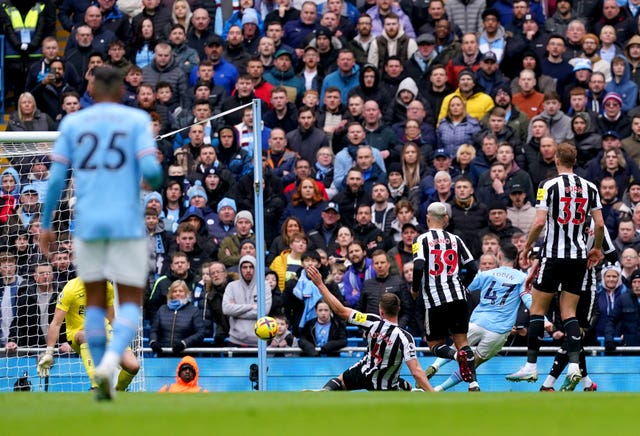 City manager Guardiola said: "Phil has this special ability but I when I spoke to him I said what has happened to him is normal, it is what should happen.
"He arrived at 17 years old and trained with us – here, here, national team, European Cup, World Cup, winning titles.
"Every year he was a little better than the year before but the moment you go down, accept it, it's part of it.
"He struggled with his ankle, but accept it. Don't blame the other ones, don't blame the opponents, don't blame the manager or the club.
"Accept it, you can do better and step by step, they will be back. Of course now he is scoring goals.
"What happened to Phil is completely normal. Just accept it and the bad moments shall pass. The good moments will always come back."
Foden's effort gave City a deserved lead but Newcastle fought back and were in the ascendancy before Bernardo Silva came off the bench to secure the points for City on 67 minutes.
Guardiola said: "They had chances to score goals and we had problems but it is Newcastle – an exceptional team.
"They were in the final of the Carabao Cup one week ago and they have been in the top four, top five all season.
"It was an incredibly good result for us because it was a tricky game."
After their loss at Wembley last weekend and a failure to win any of their last five Premier League games, Newcastle have the appearance of a side running out of steam towards the end of a fine campaign.
Manager Eddie Howe, however, feels his side have remained strong.
Howe said: "I think when you lose a huge game, then naturally there is a disappointment within the group. I'd have been surprised if there wasn't.
"We had work to do during the week but I don't think you saw a team wallowing in any kind of self-pity or in any negative moment.
"I thought you saw a team that was fully committed, very brave, very aggressive and very much in that game.
"Our overall performance has been very good. They've been high-level games, and we've gone toe-to-toe with all of those teams. We've come out beaten but, on the general performance, that's probably a harsh reflection."