Harry Kane says defensive solidity must become a cornerstone as Tottenham seek to build on Sunday's 2-0 win against Chelsea and shore up their place in the Premier League's top four.
Spurs have kept four clean sheets in their last five league games and were largely untroubled by the visitors, whose attacking woes showed no sign of abating.
However, Antonio Conte's team have not managed a series of three or more league wins all season and have been culpable of recurring defensive horror shows, including the 4-1 defeat away to Leicester earlier in February.
They also let in four in losing to champions Manchester City last month, and defensive frailties have this season contributed to two separate runs of three defeats in four.
Their defence is the most porous of any side in the Premier League's top 10, having let in 20 goals more than Newcastle who are their closest challengers for a place in next season's Champions League.
"We spoke about it a lot over the last few weeks," said Kane, whose goal eight minutes from time was his 18th in the league this season. "Clean sheets are going to win us games, because we have good attacking power and we're going to create chances.
"We've done that well, apart from the Leicester game, which was a blip, but in the games around that we've been solid and kept clean sheets. If we want to be around the top four at the end of the season, we're going to need performances like that.
"This was a really important result. Chelsea are a top team, tough to play against and we've struggled (against them), especially here at home in the last few years. We played really well, especially in the second half, when I thought we put our foot on the pedal and deserved the 2-0 win."
Spurs saw off a woeful Chelsea side thanks to goals from Kane and midfielder Oliver Skipp, whose strike to open the scoring 19 seconds after half-time was his first for the club.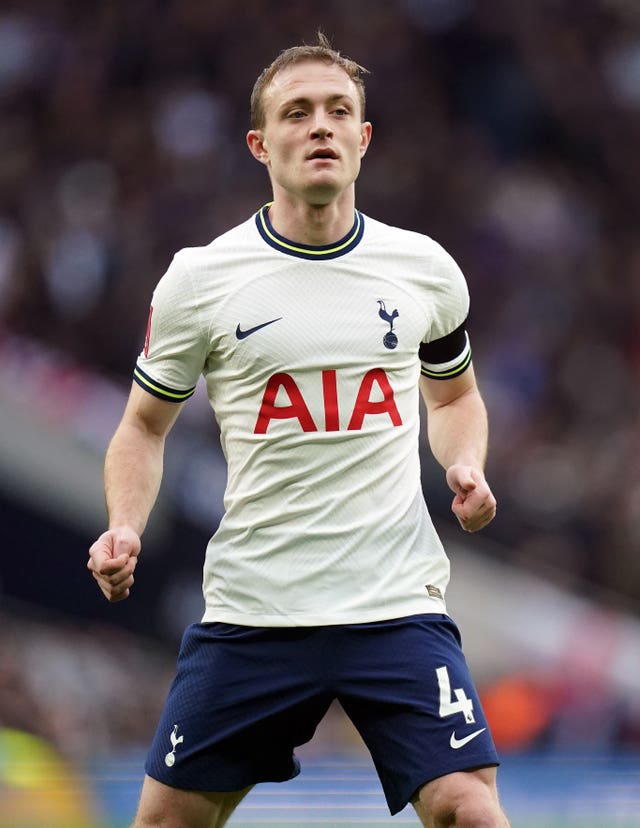 The 22-year-old blasted his side in front from outside the box after beating Blues forward Joao Felix to a loose clearance from Enzo Fernandez, his bullet effort crashing into the roof of the net via the fingertips of goalkeeper Kepa Arrizabalaga.
Skipp missed the last four months of last season with a pelvis injury, and was again unavailable for the start of the current campaign. Sunday's game was his 10th in the league since returning to fitness.
His goal was the first that Tottenham had scored against Chelsea at their new stadium since it opened in 2019, and means the team have now won four out five to open up a four-point gap to fifth-placed Newcastle.
"It makes it sweeter to score your first goal in a game like that, and for it to be an important one and to get the win as well," said Skipp.
"The last year has been difficult. The first half of the season, from a personal point of view, didn't go how I wanted it to go. Even when I was playing, I didn't feel like I was performing to my level, so it's nice in the last few games to feel like I'm getting back to that level I know I can (achieve).
"And, hopefully, keep pushing and keep improving. It makes times like this so special, because the last year hasn't been the best personally with the injuries. It was special to come back and score that goal."