Tottenham captain Hugo Lloris has apologised to fans for the "embarrassing" 6-1 defeat at Newcastle, acknowledging the players showed a "lack of pride".
Lloris, who conceded five goals in the opening 21 minutes at St James' Park before going off at half-time through injury, faced the press after the game and reflected on "a bit of a mess".
"It was very embarrassing," the French goalkeeper said on Sky Sports.
"The first thing is we should apologise to the fans who travelled and who watched the game.
"It is difficult to analyse the performance, but the first thing was a lack of pride.
"We did not show a good face today. We could not match the performance of the Newcastle players, we were late in all aspects of the game.
"We completely missed the first part of the game. The second half is another story, but it is really painful today.
"We could not fight. Newcastle were very aggressive and offensive every time they got the ball.
"It is difficult to analyse the performance, but the first thing was a lack of pride.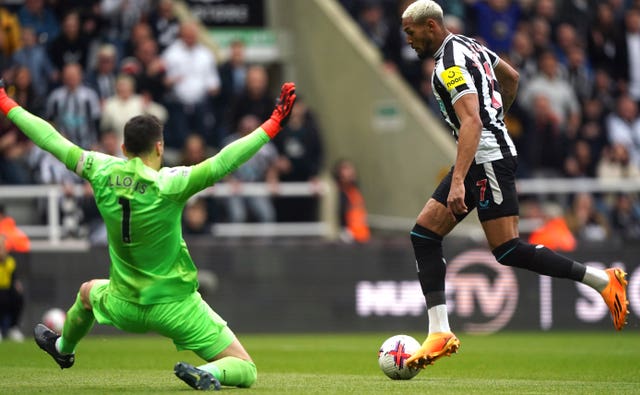 "You can get punched once or twice and you concede, but on the pitch was something strange like we could not even react to bounce back into the game.
"We can try to find excuses, but we missed the fight. If you go on the pitch without the desire to win the battle, it makes things very hard. It was a bit of a mess."
The result saw Spurs, under the guidance of interim head coach Cristian Stellini following the dismissal of Antonio Conte last month, lose further ground in the battle for Champions League football.
Lloris continued: "We cannot hide behind the club's problems. We are players, we are professionals and every time we go on the pitch we try to deliver our best, but today it was too much slack in all the aspects.
"It is just a different level today between Newcastle and Tottenham. Now there are two other difficult games in the week (Manchester United and Liverpool). We have to bounce back."
On his own fitness, the goalkeeper, who had just returned from injury, added: "It doesn't sound good.
"I don't know if it is muscle, but I felt something around the hip on a long kick. We will see after a scan and a couple of days."
The Tottenham Hotspur Supporters' Trust took to Twitter soon after full-time to express its frustration and call on the board to "act decisively".
It posted: "It's clear that something is seriously wrong at Spurs and our loyal fans deserve so much better. Today was completely unacceptable.
"The @SpursOfficial board needs to act decisively to give us all some hope and something to get behind at the end of a truly awful season."