Roy Hodgson refuses to rule out taking another job in football when his short contract at Crystal Palace expires at the end of the season.
The 75-year-old's second spell at Selhurst Park got off to a winning start on Saturday, the Eagles collecting all three points for the first time in 2023 courtesy of a last-gasp 2-1 triumph over Leicester to keep hold of 12th in the Premier League.
The former England manager now has nine matches left to secure the London club's safety in the top flight and admitted that, while most people of a certain vintage might prefer to take it easy, he is open to whatever offers could come his way.
"I don't really bother about my age because I don't really feel my age," said Hodgson, who first managed boyhood club Palace for a four-year stint from 2017-2021 before announcing he was stepping back.
"But the fact is, it's a truth that I am getting old, and I would be very surprised if Crystal Palace wanted to go down that route (of appointing Hodgson permanently) and I certainly wouldn't be pushing them to go down that route.
"But then I wasn't pushing them when they came to me and asked me to come back now either. I don't push people. I'm flattered when they come and ask me to do the job, and I'll try to do it to the best of my ability.
"The one thing I am definitely not going to say is that after, when the summer comes, I am retiring. Because I don't like the word 'retiring' really. I think I prefer 'I'm stepping back'.
"I'm not actively seeking to keep going, but who knows what the future brings? And if it brings something like this then I always want to be able to say I'll do it without saying, well, I've got to come out of retirement."
This is not the first time the Eagles boss has reversed course on a decision to walk away from football. Less than a year after announcing he was leaving Palace – making way for his now sacked predecessor Patrick Vieira – Hodgson was appointed to see Watford through the end of the 2021-2022 season.
Part of the appeal of Hodgson's return to Selhurst Park was his familiarity with the club and numerous players still in the squad from his previous spell, including Wilfried Zaha, to whom Hodgson handed the captain's armband on Saturday.
Zaha led a transformed attack against Leicester, their 31 shots the joint highest by any one team in a Premier League game this term.
Seven of those came from Zaha, who is out of contract in the summer and, in a big blow to Hodgson's side, was forced off with a groin strain at the end of the first half.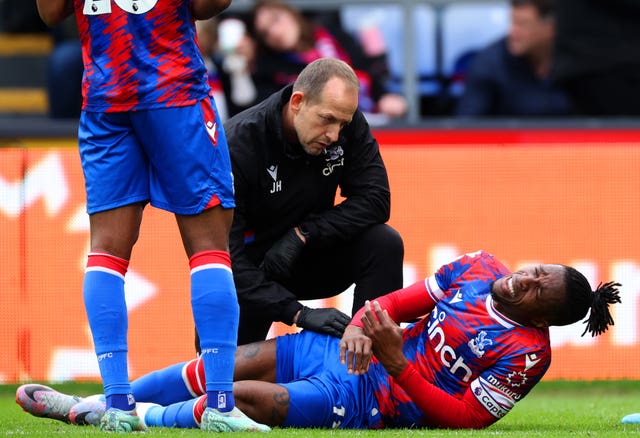 Hodgson is targeting three wins from Palace's final nine matches – the majority against fellow relegation-battling clubs – to give his side what he believes would be "half a chance" of staying up.
Saturday's victory could therefore be the beginning of a monumental momentum shift for the club, but Hodgson admitted the warm reception he received pre-match came with a caveat as his men remain vulnerable.
"It worries you," he added. "Because you think, if I'd have stayed away from this job, I could have just stayed at home and then come here every now and again and they would have still been doing that because I wouldn't have been losing any matches with the team.
"Of course I'm delighted and very grateful to the crowd for giving me that reception, but if it made my hair stand up at all it was in fright that I was going to let people down, and maybe I wasn't going to be able to do the job that everyone has asked me to do here."