Harry Maguire insists he has proven himself time and again for England and believes it would be a "failure" not to win Euro 2024.
The 30-year-old also feels he remains an influence at Manchester United despite falling out of favour at Old Trafford for large parts of the season.
The much-maligned centre-back was at fault for Italy's goal as England won 2-1 in Naples on Thursday night to begin their Euro 2024 qualification campaign with three points.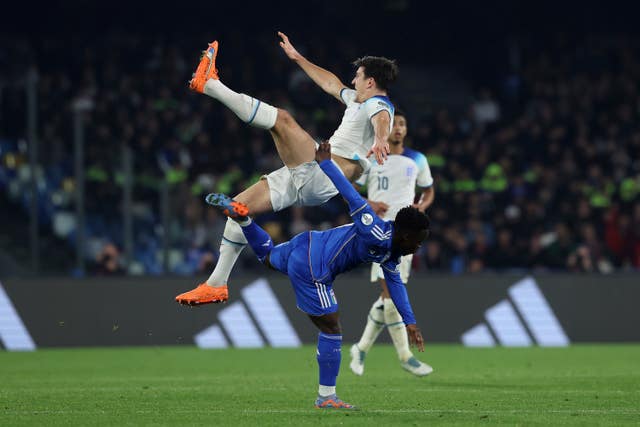 Maguire has always retained the faith of England boss Gareth Southgate and has started 14 of the last 16 games for his country, including every match at the World Cup in Qatar – where a quarter-final loss to France ended any hopes of glory.
While he has received plenty of criticism for his club performances, the United skipper maintains he has the quality to play at the top level.
"Obviously this season, I haven't played as much as I'd like but, for my club, I feel like my form's been good this year," he said.
"I know people obviously look at me not playing but when I've played, I think in my last eight or nine starts for Manchester United we have won.
"I can't remember losing a game for Manchester United, it must be the third week of the season. So my influence is still there. But of course I love playing for my country and in 50-odd caps I feel like I've never let my country down.
"I think in terms of minutes on the clock I played two games last week, two 90 minutes for Manchester United.
"I think last month I played four games, started four, so it's probably as many as a lot of the lads in the dressing room, if not more.
"Listen, I want to play every game, I want to play every game for my club and my country.
"I feel like I'm good enough to play at a high level and I've proven that over the last five, six years now.
Asked if he feels properly appreciated, Maguire replied: "For England, yes, I do.
"Obviously, last season was difficult for the club but listen, I've proven myself to Gareth, who works with a wide range of centre-backs.
"He has the choice of all the English centre-backs in the country and every time I'm available, I've been in the team. I'm sure if you ask the rest of the lads they know what I bring to the team.
"I feel like I'm nearly 30 years old but I shouldn't really need to prove myself at this level. I've made over 50 caps I'm England's, top scoring defender.
"I've played nearly 200 times for Manchester United, I've captained the club for three years now but I do also understand that when you are the captain of Manchester United you do come under the most amount of scrutiny.
"Last season at club level, my performance was weren't good enough, alongside everybody else at club level, not just myself."
Maguire has been capped 54 times by England and seemingly remains integral to Southgate's plans at the start of another tournament cycle.
The 30-year-old is one of the elder statesmen in the set-up and believes anything other than going one step further than Euro 2020 and bringing the European Championship trophy back from Berlin next summer would be a failure.
"We're in a good place, we felt like it was in a good place at the World Cup," he added.
"But these big tournaments are decided on the finest margins, I think we played really well in the World Cup and ultimately, we got knocked out to a good French team.
"However, they've proven over the years that they manage to get the job done better than England do.
"So it's something that we're working on. But of course, we have to look at our team now and our squad and we have so much talent and so many young players coming through.
"I think for me, at my age as well, 30 years old now and I'm with a mindset of, 'if we don't win the tournament, it's been a failure'.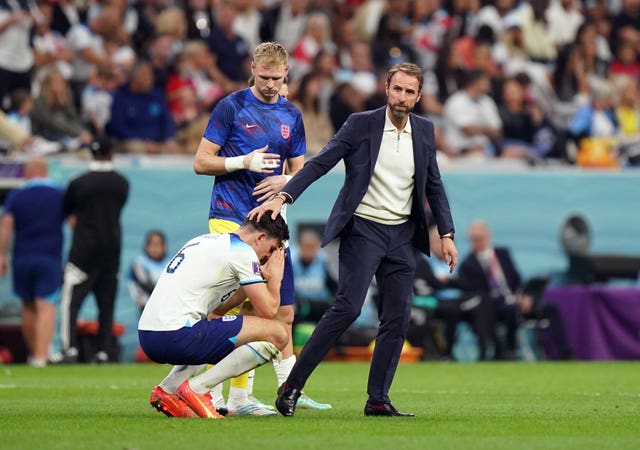 "Obviously, we've got to qualify first – I mean it's a tough group but that's my mindset. I mean, I've been at three major tournaments now and I've come so close. So my mindset is obviously I believe that we have the players to win it.
"It's just those fine margins weren't with us in Qatar, that can happen in these major tournaments. I'm speaking on behalf of myself but I know from speaking to the other lads as well, they were really pleased that Gareth stayed.
"We've built something as a group and he's been the leader of it. I must say that he's been the one who's given us hope and given us belief as a country to be successful in these major tournaments and I feel like for sure we benefit."