Jonjo Shelvey has revealed he begged Eddie Howe to let him leave Newcastle in the January transfer window in order to kick-start his career.
The 30-year-old signed for Nottingham Forest on a two-and-a-half-year deal on deadline day last week, ending a seven-year stint at St James' Park.
It was an emotional exit for Shelvey, whose young family were reduced to tears at the prospect of leaving, but he insisted it was necessary for the benefit of his career.
Howe initially rejected Shelvey's request to leave but changed his mind the following day.
"Eddie did say no, he said he couldn't let me go at first," Shelvey, who made over 200 appearances for Newcastle, said. "I sort of pleaded with him to let me go, a lot of people don't know this.
"He told me to sleep on it, then he said they could only let me go if they can get one in.
"I said I needed to leave, for a fresh start, I put my points across.
"The next day, he pulled me over and we had a little chat – and he granted my wish. Eddie said he wouldn't stand in the way of my happiness.
"It was a decision I had to make for football reasons. But a big thing was for my family and their future. I wanted to come away and play games, feel part of it much more.
"It's been a tough season, if anyone knows me, they know I just love playing football.
"I felt I needed a new, fresh start, that was the main reason."
Shelvey, who joined in 2016 from Swansea, helped the club through some difficult times and leaves just as things look to be taking off following their takeover in 2021.
Howe's side are in the Carabao Cup final later this month against Manchester United at Wembley and Shelvey will go along to watch in the hope he gets a medal.
"I shall be going to watch Newcastle play in the final and Forest play West Ham away, so it fits in nicely," he added.
"Plus, I read somewhere that if they win, I still get a medal.
"It'd be nice to go and watch them, but I'm more interested in playing against them now.
"I'll still count it, I hope they do win it. But I only played two games in the competition."
Shelvey has swapped from a Champions League qualification push to a relegation battle, though Forest are beginning to look up following an impressive start to 2023.
The midfielder is excited about what could happen at the City Ground and is already impressed with boss Steve Cooper.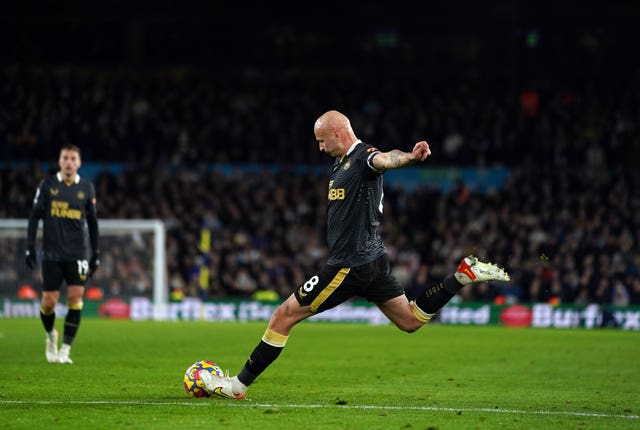 "That club (Newcastle) is on the up massively, but then so is this club," he said. "Obviously I'd heard great things about the manager here and I'd watched a few of their games.
"He has been brilliant, very detailed, really enjoyed working with him. Eddie Howe had a lot of great, positive things to say about him when I spoke to Eddie.
"I've done about four or five sessions with the team now and I've really enjoyed the training.
"There are a lot of meetings and stuff like that, which I'm kind of used to anyway. He's constantly pulling you in and stuff like that so he's a really hands-on manager. That works well for me."