Eddie Howe does not want to be anywhere but Newcastle as he plots a route to lasting success after delivering Champions League football at the end of his first full season at the helm.
The 45-year-old will spend the summer working with the club's owners and sporting director Dan Ashworth to bolster a squad already enhanced by spending in excess of £250million for the challenges which lie ahead.
In doing so he will have to make a series of tough decisions, but not about his own situation.
Asked if his long-term future lies at St James' Park, Howe said: "Very much so, there is no other thought in my mind.
"For as long as I'm wanted, Newcastle is where I want to be. I'm hugely excited about next season and hopefully beyond."
Howe has been linked repeatedly with the England job in recent years and his early success on Tyneside after his sterling work at Bournemouth has seen his reputation blossom.
However, he is not a man to rest on his laurels and knows what lies ahead may prove even more difficult as he attempts to balance the demands of domestic and European football.
He said: "It can be tougher [playing in Europe]. I don't want to come across as negative or pessimistic in any way, or almost having that mindset going into next season. We need to go into next season full of positivity and full of what can be.
"We want to compete, we want to try to win a trophy, so we are very, very ambitious to move things on, but the challenges will get harder and we have to be better."
Tyneside has been bathed in euphoria since Monday night's 0-0 draw with Leicester ensured just a third Champions League campaign for the club and took the pressure off Sunday's trip to Chelsea.
However, while he is determined to make an impression among Europe's elite, Howe has no intention of forgetting the bread and butter of the Premier League.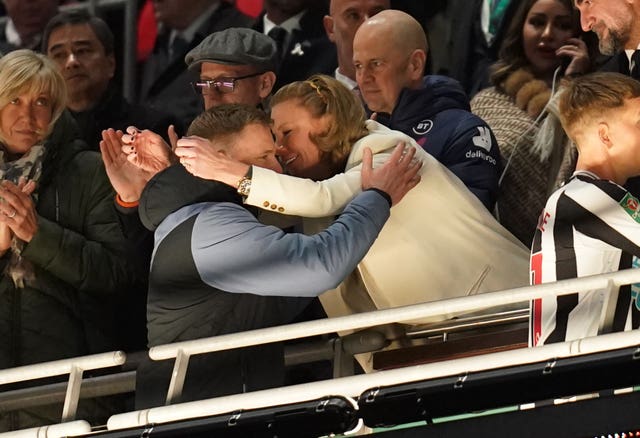 He said: "I look at the Premier League as your first target, the foundation to your season, really, so we won't be going away from all eyes on the Premier League, all eyes on making sure we start as well as we can and we try to be as consistent as we can.
"We won't be taken off course in terms of our focus. The Champions League will start later on. It's the foundation that we're looking at and that's the Premier League."
If the quest for Europe was something of a pipe dream back in August, the desperation to end a trophy drought which dates back to 1969 remains after despite February's Carabao Cup final defeat, and that will not be pushed into the background either.
Howe said: "We won't look at the domestic cups and sacrifice them for the Champions League. That's not my mindset sitting here now.
"We want to try to win a trophy and we came very close this year. We want to go one step further."