Joelinton is gearing up for seven "finals" after helping Newcastle strengthen their grip on a top-four Premier League finish.
The 26-year-old Brazilian made the first and scored the second goal in Sunday's stunning 6-1 romp against Champions League rivals Tottenham at St James' Park which left clear blue water between the clubs.
However, despite sitting in third place with seven games to play, the first of them at relegation-threatened Everton on Thursday evening, the Magpies are in no mood to leave anything to chance.
Joelinton said: "It's not done yet. Thursday is an important game.
"It was a great atmosphere. We enjoyed the night after it, but, from Monday, it's focus on the next game.
"It's seven finals to play and we go one match at a time."
Newcastle's latest win was secured inside 21 scarcely-believable minutes as fifth-placed Spurs capitulated is spectacular fashion.
Jacob Murphy started the ball rolling after Hugo Lloris could only parry Joelinton's shot, but the South American got himself of the scoresheet after collecting Fabian Schar's sixth-minute pass and rounding the keeper.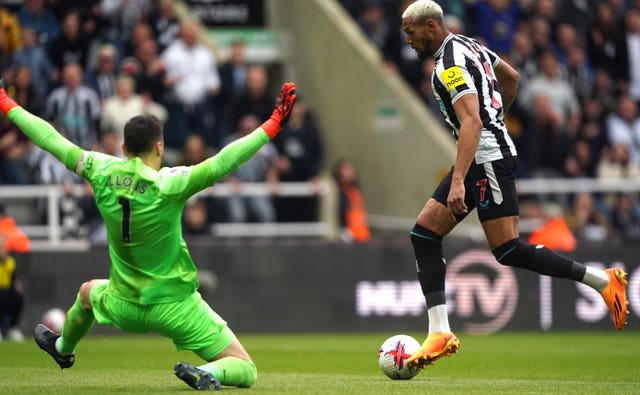 Murphy's second put the Magpies in dreamland, and the sense of incredulity increased when record signing Alexander Isak scored twice in as many minutes to make it 5-0.
Harry Kane's goal four minutes after the break was followed by one for substitute Callum Wilson to cap an astonishing afternoon on Tyneside.
Joelinton said: "We started really well. We did what the gaffer wanted us to do, get on the front foot and press high with nice energy from everybody.
"It was positive energy and we took our chances."
Much has been made of the impact of Newcastle's new-found wealth in their return to prominence this season, but the fact remains that nine of the 16 players involved on Sunday were signed during Mike Ashley's controversial tenure.
None has improved more under head coach Eddie Howe and his staff than Joelinton, who has been transformed from a £40million flop into the heartbeat of the team.
He said modestly: "Ever since I arrived, I wanted to do good things. I wanted to make people happy.
"I just kept going and never let my head go down. That hard work is showing now."