Frank Lampard believes his turbulent spell in charge of Everton made him a better manager as he prepares to lead Chelsea in his first game since returning as interim boss.
He takes his new side to Molineux on Saturday to face Wolves, who were the club's first opponents after Lampard was sacked by former owner Roman Abramovich in 2021.
The 44-year-old was dismissed mid-season, with the team in ninth place in the Premier League and trailing the top four by five points.
Lampard has inherited a rather bleaker situation from former manager Graham Potter, who was sacked on Sunday after 31 matches in charge, with a 14-point gap separating 11th-place Chelsea from the Champions League places.
The 12 months Lampard spent in charge at Goodison Park brought mixed fortunes, taking over in January last year and leading Everton to a dramatic escape from relegation in the season's final days.
However, the team's struggles continued into this campaign with little sign of progress on the pitch and ongoing problems for the club behind the scenes, leading to his removal with the side again fighting to stay in the top flight.
Chelsea's interim boss believes those experiences have helped him evolve into the right fit to lead the team in the immediate post-Potter era while the club searches for a permanent replacement.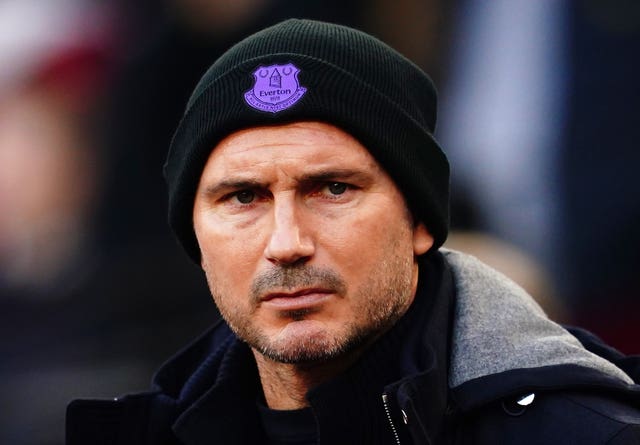 "I've reflected on having an amazing year at Everton personally," said Lampard.
"It's always an honour to manage a club of that status. We had an amazing moment together, staying in the Premier League. That will stay with me for a long time.
"I've definitely changed (since the first spell at Chelsea). I took some things that I changed on to Everton. You 'evolve' is probably a better word. I've always been very, very open to listening, to looking, to learning and reflecting. I'm certainly not a person who sits here and says I've got all the answers.
"There are things I look back on, things where I think I've maybe improved. The results will always be in how I perform here and how I can affect the players now.
"I think I have improved. There was a great manager, who's not with us anymore, who said to me when I was first here in my office, there are things he did towards the end of his career, he reflected that he was actually a better coach in that way in his first year of managing.
"I understood what he meant there. In your early years of managing there's a freshness and naivety. You look back and think 'that was really good'. The game can change you a little bit."
Lampard hinted that he would be interested in staying on in the job beyond the end of the season, adding: "I want to impact the club in the best way in this period. After that, we'll see what happens."
The club are nevertheless engaged in an ongoing process that began this week to find Potter's permanent successor, with Luis Enrique having met with co-sporting directors Paul Winstanley and Laurence Stewart. Former Bayern Munich coach Julian Nagelsmann has also been approached.
Lampard's tenure is likely ultimately to be judged on how the team fares in the Champions League, with the team flying to Madrid to face European champions Real in the first leg of their quarter-final on Wednesday.
Chelsea's two previous successes in the competition have been achieved by interim coaches appointed mid-season, with Roberto Di Matteo winning the tournament in 2012 having replaced Andre Villas-Boas and Thomas Tuchel repeating the feat after Lampard was himself removed two years ago.
The former midfielder was a key member of the side that beat Bayern on penalties in the 2012 final in Munich. He believes his history with the club will be an asset as they seek an unlikely third European crown against the odds.
"If the owners and decision makers, the medical staff or kitmen, want to speak to me about anything, my job here is to try and affect in a positive way," said Lampard. "If I've got knowledge from before, great. But this club wants to move forward.
"If the knowledge (needed) is about how can we get better, I'll be absolutely happy to have those conversations. I don't know what they are now.
"It's not worth talking about risk. Every job is a challenge. I'm connected to the club, I understand that element of it. That does help me, I've got a fresh knowledge of a lot of the squad.
"There will always be judgement from the outside. As a manager you cannot be too held to what people will see as success or failure or risk. I think you just have to work with the players that you've got, and we have a strong squad here. I won't start considering risk or wins until we get those wins."