Manchester City winger Jack Grealish believes he now understands how to play the Pep Guardiola way and that is helping contribute to some "unstoppable" team performances.
The £100million signing scored, provided an assist and was a constant problem for right-back Trent Alexander-Arnold and Liverpool in general in the 4-1 victory which maintained the pressure on Arsenal in the title race.
It was arguably one of Grealish's best performances since his move from Aston Villa in the summer of 2021 and he departed in the 89th minute to a standing ovation from the Etihad Stadium, with his manager describing his display as "amazing".
"It's part of learning the way the manager wants to play and it does take time. I feel like I've got that now," said Grealish, who believes he is now starting to have an impact on games in a way he was not in his first season.
"There are times where the manager doesn't want me to dribble all the time and (instead) keep the ball and play little short passes which I completely understand.
"He was just very happy with me and for me. He said I deserved this. I've been working hard and hopefully I can carry on.
"When we play like we did (against Liverpool) we are near-enough unstoppable, so fingers crossed it can continue."
Grealish proved to be effective at both ends of the field as in the first half, with the visitors leading through Mohamed Salah's 17th-minute goal, he found himself the last defender in a Liverpool counter-attack from a City corner.
He raced back with the Egypt international to cut out a pass intended for the unmarked Diogo Jota in what could have been a pivotal moment.
Julian Alvarez equalised moments later to build the base for a victory which ensured the gap to Arsenal remained at eight points with a match in hand.
"A few people have said to me now about running back, but it's normal," added Grealish.
"I think anyone would do it in the team. Obviously it was a big part in the game, because it could have been 2-0 and a few minutes later we go and score to make it 1-1 which was a big moment.
"I'm really enjoying my football at the moment. I feel confident, I feel fit, and I feel like I'm affecting games and big games. Fingers crossed I can continue.
"I thought we were brilliant, especially in the second half, and it shows what we are about. All we can do is keep winning our games.
"We've got another big game at Southampton next week, where we lost in the cup earlier in the season, and all we can do is keep winning and put more pressure on Arsenal."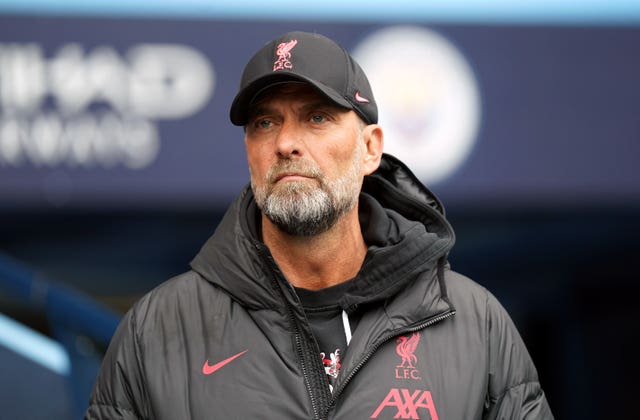 Despite their early lead Liverpool were always fighting to stay in the game against sustained City pressure and when Kevin De Bruyne scored 53 seconds after half-time they fell apart, with further goals from Ilkay Gundogan and Grealish completing a comfortable win.
With a trip to Chelsea on Tuesday followed by the visit of leaders Arsenal next weekend, manager Jurgen Klopp has to find a way to provoke an immediate reaction from his wildly inconsistent side if their fading challenge for the top four is to be maintained.
"I told the boys now there is nothing from my side to say (after the game)," he said.
"Everything is obvious and everyone needs to think about it and then we have to talk about it.
"It is not a lot of time, but it is time. We should play better, especially more consistently."