Graham Potter has warned Chelsea they cannot rely on Joao Felix to be a "silver bullet" as he called for sweeping improvements from his goal-shy team ahead of their trip to West Ham.
The 23-year-old will be available for the first time since being dismissed on his debut against Fulham in January, two days after completing a loan move from Atletico Madrid, and he is in line to start at the London Stadium after impressing against the Cottagers prior to being sent off.
Chelsea went on to lose 2-1 at Craven Cottage but are unbeaten in the Premier League since, despite having scored just one goal in their last three league outings.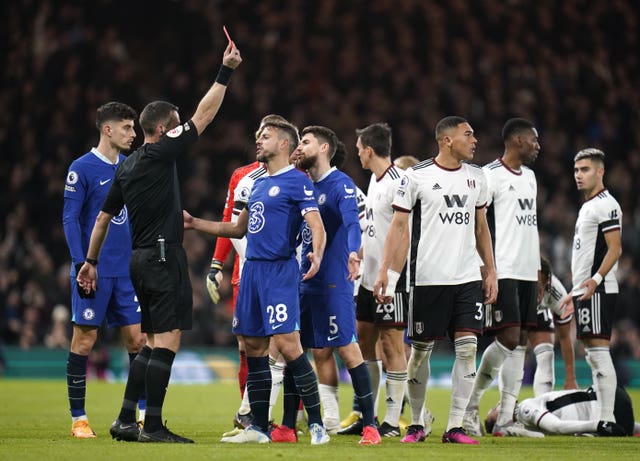 With pressure growing on Chelsea's big-money January acquisitions to find their rhythm in blue quickly, Potter urged his players to rally round the returning Portugal international and seize the moment to start building a team dynamic.
"The first signs were positive," said Potter of Felix's debut. "I think he's a very gifted individual. Then it's about how he fits in with the rest of the guys and the team.
"It's about the team attacking better and defending better. It's not necessarily about individual silver bullets that can come and fix your problems all of a sudden. It's not quite as simple as that, although it sounds like a nice way to fix a problem. You have to construct a team.
"I thought he looked the best player on the pitch. (A misjudged tackled) can happen. If you look at the 60 minutes before, he was taking the ball in tight situations, there was real physicality around him, and he was in my opinion the best player on the pitch."
Raheem Sterling has suffered a setback in his recovery from the hamstring injury that has kept him out since January, sustaining a fresh knock in training that has delayed his expected return and will thrust £88million signing Mykhailo Mudryk further into the spotlight.
After an impressive debut as a substitute during the goalless draw at Anfield last month, Mudryk found it difficult to have an impact on his first start against a physical Fulham side last time out, and he was withdrawn at half-time.
It was the winger's first competitive start since November, when he was playing for Shakhtar Donetsk in Ukraine, and he struggled to make his presence felt as Chelsea laboured to a second goalless draw in three games.
"I think with Mudryk, you saw his impact against Liverpool which was off the bench when the game was a bit more stretched," said Potter. "You can see his quality that he brings. Unfortunately he's still in a stage where he hasn't played much football, so from a training perspective getting him up to speed was tricky.
"He was ill for quite a bit of the week leading up to Fulham so that affected him a bit as well. Fulham defend well, defend differently, a well-organised defensive unit. Again, it's not just about the player, it's about the team and how we can sue him and how we can understand what he's doing and how he can help the team.
"There are lots of things to consider when assessing a player. It's always difficult to adapt to another country and another league, especially the Premier League."