Joe Willock has set himself the dual target of Champions League qualification and England recognition as he gears up for a thrilling end to the season for Newcastle.
The 23-year-old was one of the stars of Sunday's 2-0 Premier League victory over Manchester United which lifted the Magpies into third place in the table and provided a significant boost to their hopes of securing a top-four finish.
His form as a rampaging box-to-box midfielder has also prompted head coach Eddie Howe to suggest the former under-21 international should be aiming for a place in Gareth Southgate's senior squad.
Asked if that was on his horizon, Willock said: "Yes, of course, that's my dream. I want to add more goals and assists to my game, and I feel like it will come. If I keep chipping away in training and working hard, I feel like it will definitely come.
"I'm a unique midfielder and I've got all the attributes to definitely play at the highest level, which is obviously playing for your country."
In the short term, Willock, a £25million signing from Arsenal during the summer of 2021 following a hugely successful loan spell, will hope to continue to play his part in the Magpies' concerted push to muscle their way in among English football's big boys once again.
A third successive victory eased them to 50 points for the season, one more than they managed during the entire campaign last time around, and above Manchester United on goal difference ahead of Wednesday night's trip to West Ham.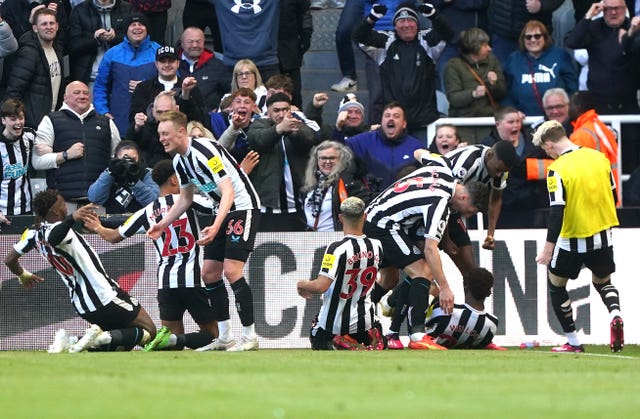 Asked if their Champions League fate is in their own hands, Willock said: "I feel like it is. We've got 11 cup finals left.
"One hundred per cent, that's our goal. I'm not going to sit here and lie to you, that's our goal and I feel like we've got the group to do that.
"We have a manager that believes in us and we're pushing every day in training, we're working really hard and hopefully we can achieve our goals."
It was Willock who set Newcastle on their way to victory over Erik ten Hag's side with a close-range 65th-minute header – his third goal of the season – and substitute Callum Wilson who cemented it two minutes from time.
The win went some of the way towards assuaging the pain of February's Carabao Cup final defeat by the same opposition, although those wounds still run deep.
Willock said: "Losing in the final is probably one of the worst defeats you can have in football. We were very upset, but we tried to use that in a good way and I feel like we did that.
"It was a brilliant game, to be honest, a good 2-0 win, and to win in front of our fans was even more special."