Liverpool manager Jurgen Klopp has admitted he might find himself on the growing list of Premier League managerial casualties this season were it not for his past achievements at Anfield.
Sunday's exits of Brendan Rodgers from Leicester and Graham Potter from Chelsea made it a record 12 managerial departures in the Premier League this season – not counting Potter's decision to leave Brighton for Stamford Bridge – with managers under pressure like never before.
It is only a year since Liverpool came within a couple of games of an unprecedented quadruple, losing the Champions League final to Real Madrid and finishing a point behind Manchester City in the title race, but even so discontent was growing among fans after Saturday's 4-1 loss to City.
"I think the elephant in the room is why I am still sitting here in this crazy world," said Klopp, who has won the Champions League, Premier League, FA Cup and League Cup during his time at Anfield.
"I'm aware of the fact I'm sitting here because of the past and not because of what we did this season.
"If this was my first season it would be slightly different. Yes, we have smart owners who know about the situation. Better ask them why that's the case."
Saturday's defeat at City was not only humbling for the manner in which Klopp's side capitulated in the second half, but it also left them eight points off the top four.
When asked why clubs were being so quick to make changes, Klopp put it down to underachievement on the pitch and admitted Liverpool are in that category this term.
"It's 12 (managers) this season which is an awful number," he said. "It is how it is.
"I think there are always years when it happens more than others. Some clubs are underachieving this year and obviously we do.
"Especially when you are in a relegation battle then clubs know how much it means from a financial point of view but you could say similar about getting into the Champions League and not. There are expectations and rightly so, and if you don't reach them you have to accept the decisions."
Asked if he feared for his position, Klopp added: "No, but I don't think Graham was afraid. There's no need to be afraid. I'm here to deliver. I'm not here as a talisman or for murals on house walls. I'm here to deliver, I know that 100 per cent. There is nothing else in my mind.
"I also know I'm here because of what happened in the last few years. I don't like the fact I pretty much have to rely on that, but is it right? We will see in the future. I'm fully in, there's no doubt about it but we have to sort it out. We cannot just continue playing like we do from time to time."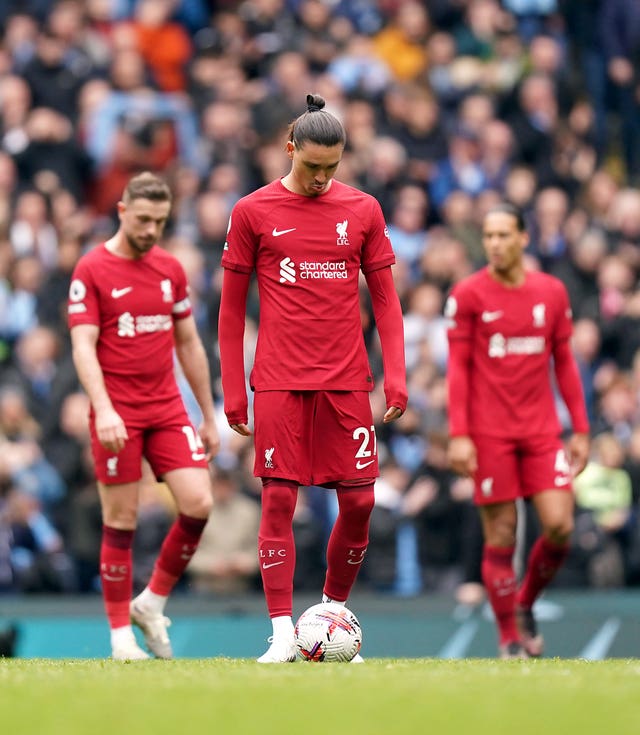 Klopp will now take his side to Stamford Bridge on Tuesday, not knowing what to expect from managerless Chelsea tactically but aware there is likely to be a reaction mentally from their players.
But asked if he needed a reaction from his own side given how disappointing they were at the Etihad, Klopp said: "As badly as it's possible."
"We need it definitely," he added. "It was a super strange game. An OK first half and an awful second half. We said it was unacceptable but it happened anyway and now we have to make sure we are ready.
"You cannot really work on the pitch in training. Games like this have a double impact, you might lose even more confidence, but the desire to show a reaction is there as well. The boys are still good people and we want to show a reaction. But the short turnaround is a problem."