Jurgen Klopp believes Liverpool must still prove themselves worthy of European football next season despite boosting their qualification hopes with back-to-back Premier League victories.
The Reds go into Wednesday's trip to West Ham in seventh place after wins over Leeds and Nottingham Forest ended a run of four league games without a victory, leaving them three points off Tottenham in fifth but nine behind Manchester United in fourth.
But with Brighton lurking a point below – with two games in hand – Klopp knows there is still much work to be done in a season where a lack of consistency has too often been Liverpool's downfall.
"Nothing," Klopp said when asked what Liverpool had shown with their last two results. "You could say the same about West Ham, they've found their feet as well so let's see about that.
"We have to still prove ourselves. We cannot talk about consistency when you win two games, especially when you win the second one like we did (a 3-2 victory away to Nottingham Forest) where the defending was not perfect to say the least…
"We have to keep it going. There were a lot of things to like in the last two, two-and-a-half games and that's what we have to continue. We have to make sure it's not too difficult for people to watch us, that they like it again."
Diogo Jota has scored four goals in those two victories, his first Liverpool goals of a season wrecked by a calf injury.
"He just got back up to speed," Klopp said of the Portugal forward. "He is an exceptional player.
Since Diogo joined us he did exceptional stuff for us. He's super smart, can play a lot of different positions, he has super interesting skills for an offensive player.
"He's not the tallest but an extreme threat in the air, his timing is top, he can finish with both feet which is extremely helpful and has the speed.
"Diogo this season had a really bad injury, that kept him back, nothing else. If he stays fit he is an outstanding player.
"When you are injured you need rhythm. It is an ongoing season and nobody waits for you – that is the most difficult thing.
"Now it's really cool he could score these goals because all of them were – for us – super important."
Liverpool's trip to east London may be badly timed, with West Ham picking up form in their fight against relegation.
David Moyes' side are unbeaten in their last four in all competitions, a run that has included a 2-2 draw with leaders Arsenal, victory over Gent in the Europa Conference League and Sunday's 4-0 rout of Bournemouth.
Klopp said he expected a tough evening, but joked he had been rooting for Moyes to succeed all season since being told in the summer that the former Everton and Manchester United boss was – before the appointments of Julen Lopetegui and Roy Hodgson – the only manager older than him in the Premier League.
"I don't look much at other clubs…but this specific one I was into it because if West Have would have sacked David Moyes I would have been the oldest manager in the Premier League and I wanted to avoid that," Klopp said.
"Somebody told me before the season, I was the second oldest manager. David was the oldest so since then it was fingers crossed for West Ham. David has to stay!"
Klopp also said he was happy that the process of appointing of new sporting director was moving in the right direction.
Julian Ward will step down at the end of the season, only 12 months after replacing Michael Edwards.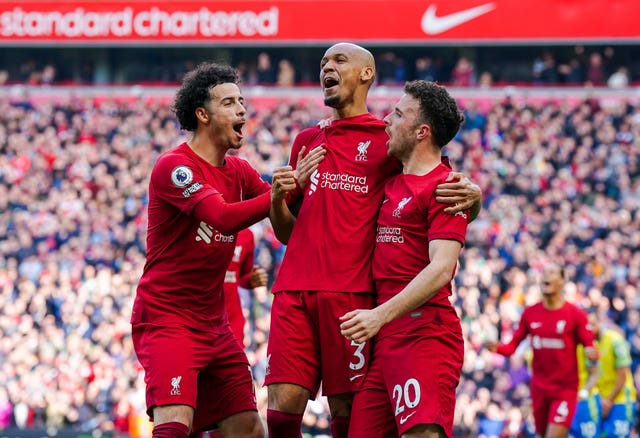 "I'm not involved in the talks (with possible candidates) but in the talks around (who to pursue) then, yes," Klopp said.
"I am not the person in the club who can give a real answer about where it stands. That's in the hands of other people, but from what I've heard, it's all going in the right direction…
"I'm happy with the structure. The guy or the lady we get will be absolutely right but nothing to say in this moment."