Liverpool still hold out hope they can scrape into the top four but their late charge for Champions League football could be derailed if manager Jurgen Klopp's comments about referee Paul Tierney come back to bite them.
Following the dramatic 4-3 victory over Tottenham, in which the Reds needed an added-time winner from Diogo Jota to extend a four-match winning run after squandering a 3-0 lead from the opening 15 minutes, Klopp said he did not know what the official "has against us".
Klopp was booked for his over-zealous celebration in front of fourth official John Brooks but said of Tierney's attitude: "What he said to me when he gave me the yellow card is not OK."
The Professional Game Match Officials Limited was quick to respond, saying in a statement: "PGMOL is aware of the comments made by Jurgen Klopp after his side's fixture with Tottenham Hotspur.
"Match officials in the Premier League are recorded in all games via a communications system and having fully reviewed the audio of referee Paul Tierney from today's fixture, we can confirm he acted in a professional manner throughout including when issuing the caution to the Liverpool manager so, therefore, we strongly refute any suggestion that Tierney's actions were improper."
But it is Klopp's suggestion of bias which is likely to land him in trouble with the Football Association and could lead to him receiving a touchline ban for Liverpool's remaining few matches.
He was previously warned about his conduct after being banned for one match and fined £30,000 after the FA successfully won an appeal against the leniency of his punishment for berating an assistant referee during October's home win over Manchester City.
The absence of Klopp from the touchline for any or all of Liverpool's eminently-winnable remaining matches against Fulham, Brentford, Leicester, Aston Villa and Southampton could kill their momentum and blow their outside chances of catching fourth-placed Manchester United, who are currently seven points ahead with a match in hand.
One mistake and the best Liverpool can hope for is Europa League football but they came close to throwing it away against Spurs having coasted into a three-goal lead through strikes from Curtis Jones, Luis Diaz and Mohamed Salah.
Harry Kane equalled Wayne Rooney's Premier League tally of 208 goals just before half-time, leaving only Alan Shearer (260) ahead of him in the all-time list, and when Richarlison's first league strike in added time followed Son Heung-min's 77th-minute effort, Spurs looked like they had escaped with an unlikely draw.
However, just 99 seconds after equalising, Jota slotted in his fifth goal in four matches to spark wild – some would argue too wild in Klopp's case – celebrations as Liverpool's slim Champions League qualification hopes were kept alive.
"Sometimes we don't half make it hard for ourselves," said midfielder Harvey Elliott, back in the side after almost a month.
"We started the game unbelievably well, got three goals in quick succession, and personally I think we took our foot off the gas a little bit and allowed them to play a bit more football while not playing football ourselves.
"It's a tough one to explain. It's not a lack of concentration. Maybe because going 3-0 up early hardly ever happens so the way we deal with it is new to us.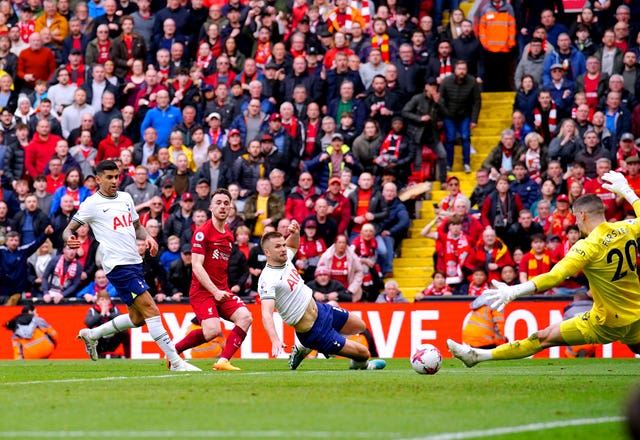 "It's always a hard situation because emotions are high, performing well and then we just decide to switch and didn't do our game-plan.
"We decided to keep the ball and I felt it was just a bit slow in the way we moved it around and that caused ourselves problems. That's something we need to snap out of."
Ryan Mason, two matches into another spell as interim head coach following the sacking of Cristian Stellini after the 6-1 embarrassment at Newcastle, was less interested in Tottenham's top-four chances now they had dropped to sixth than he was of repairing some of the recent damage.
"My priority is to get some togetherness, create some good feelings and energy around the place and bring our fans with us," he said.
"The only way to do that is winning matches so it's difficult to take. We're just devastated in the way we lost the game."