Liverpool manager Jurgen Klopp admits the draw with Arsenal has given him something to build on in the coming days.
After losing to Manchester City and then only drawing against Chelsea in a disappointing display at Stamford Bridge, the Reds closed out what Klopp had said would be a defining week in their season with a positive.
They came from 2-0 down to draw with the Premier League leaders courtesy of Roberto Firmino's late goal but it was the nature of the performance, particularly in the second half, which gave Klopp cause for optimism.
"It's so important, this is not something now where we go home and don't get our arms down," he said.
"That's something we have to take and we have now a long week which is a big difference as well.
"I like it, the fact that we have enough time to train, real time to train, real time to recover for a few boys and real time to train, bringing boys back.
"For Thiago (Alcantara, back after two months) it's super-important that he has a few training sessions on top of the few he had.
"Luis Diaz will be back in full and normal team training and available for the game so these things are really, really good news.
"Then we have to go again, this time Leeds (next Monday) – that will be a tough one but no excuses, we have to make sure we are ready again and build on today.
"I said after the Chelsea game it was a step in the right direction, probably a lot of people thought, 'What is he talking about?', but it was a step from different points of view and this was another step.
"We were part of a spectacular football game because we were good for an hour: OK but conceding in the first half an hour and then good, and we should have won the game – but we didn't – against the team in form, flying."
Defender Trent Alexander-Arnold, who provided the cross for Firmino after a delicious skip past Oleksandr Zinchenko, admitted the Reds finished the game frustrated they had not won after a much-improved display after the break.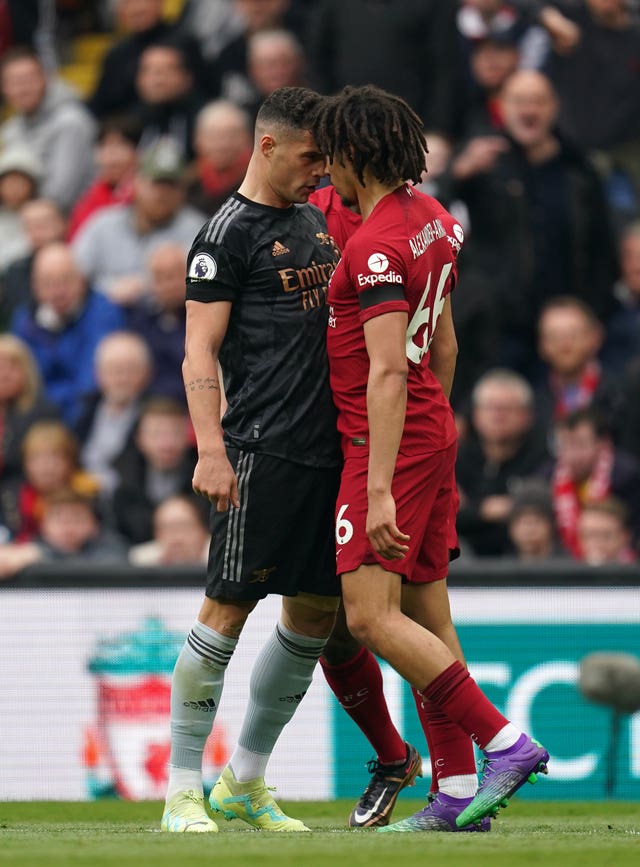 "They're one of the two best teams in the league – them and City," he told Sky Sports.
"Every game we want to go and get three points. Disappointed somewhat to not get it but there were lessons in there that we can play and have belief to play against a quality side like Arsenal.
"We've shown on numerous occasions we can go toe-to-toe with the best in the league.
"Going two behind at home is never good but we showed character, got into the game, obviously got the late equaliser and a huge chance at the end to go and win it.
"We'll take the point but we know it could have been three."