Jurgen Klopp will demand to see improvements on the pitch from his Liverpool players when they head to Chelsea on Tuesday night.
Saturday's poor 4-1 defeat at champions Manchester City has prompted yet another post-mortem for a side who have gone through a series of setbacks in a season which has seen them go from title challengers to long shots for a Champions League place, now eight points adrift of fourth-placed Manchester United.
Virgil van Dijk said in the wake of that defeat there would be a need for some "hard talking" behind the scenes but, speaking on Monday, Klopp said there was only so much good that talking could do.
"Over the period we've had so many meetings," he said. "If you win you have a short talk, saying what was good and what we have to keep doing, and when things are not going well, you cannot just get over it like this, you have so many meetings.
"It's not about talking anymore, it's about delivering, it's about doing. That is the message. We spoke over the season about everything 100 per cent. You cannot close your eyes and hope it will get better. But it's for us to deliver."
Liverpool led at the Etihad Stadium through Mohamed Salah, but Julian Alvarez levelled before the break and a ruthless City tore through the visitors in the second half, with goals from Kevin De Bruyne, Ilkay Gundogan and Jack Grealish ending the contest.
"We have to talk but I don't think anybody there can explain the drop between the two halves," Klopp added. "We conceded a goal and reacted in a very bad way, then conceded the next one and the whole game is gone.
"This meeting would have been about what happened and not what has to happen. Obviously we are now already preparing for Chelsea and what is much more important is what we need to do. We are talking about Chelsea because on the training pitch we cannot do an awful lot."
Not for the first time this season, Klopp has been left discussing the need to get back to basics as poor defending made it too easy for City.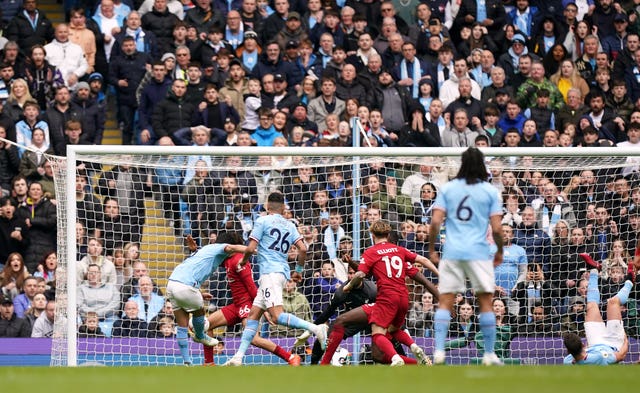 "In the second half at City we were much too open," Klopp said. "We faced a team who even when you are really compact they can find a way through the lines with (Ilkay) Gundogan, (Kevin) De Bruyne and Rodri.
"Even the centre-halves, (John) Stones, are really calm on the ball waiting until it opens up to push it through. It is already difficult enough when you are compact. When you are not compact for them it is like a birthday party. The actual challenge is impossible because we are too far away.
"We have had the conversation about a high line and people exposing us with passing behind. We could sit back completely but that is not us at all.
"It's basics. It's not rocket science and it didn't turn into rocket science overnight. It's possible, it's what we have to demand, it's what we have to show, and it's what we have to do."