Liverpool manager Jurgen Klopp admits it made sense not to see his players for two days in the immediate aftermath of last weekend's dismal defeat at Wolves.
The Reds boss admits he left the club's AXA complex on Sunday – having given the squad two days off – in an "average mood" following the previous day's 3-0 reverse at Molineux.
But with their next match not until Monday's visit of Everton for the 242nd Merseyside derby, Klopp believed the best option was to give everyone some breathing space.
"In Germany this question would have come much earlier: 'How can you give them two days off in the situation you are in?'," he said.
"You can – but it is not beneficial – to train every day. We played bad at Wolverhampton, next day we came in, made the analysis and spoke to each other and then gave them two days off because it is a very long time between Saturday and Monday (the following week).
"But of course I could have said 'Sunday training, recovery' and from Monday on we go for them (Everton).
"It wouldn't have been helpful at all. It would have been bad, it would have caused injuries, it would have caused a lot of problems.
"To be honest on Sunday after we spoke about everything I thought 100 per cent it makes sense that we don't see each other for two days.
"And it was helpful. I left on Sunday in an average mood and I came back in a good mood.
"I worked through it. I had a lot of phone calls but I was in a much better mood, a completely different mood to be honest, and that is why it was very helpful and yesterday we benefited from it."
Liverpool midfielder Thiago Alcantara is a doubt for Monday's Merseyside derby.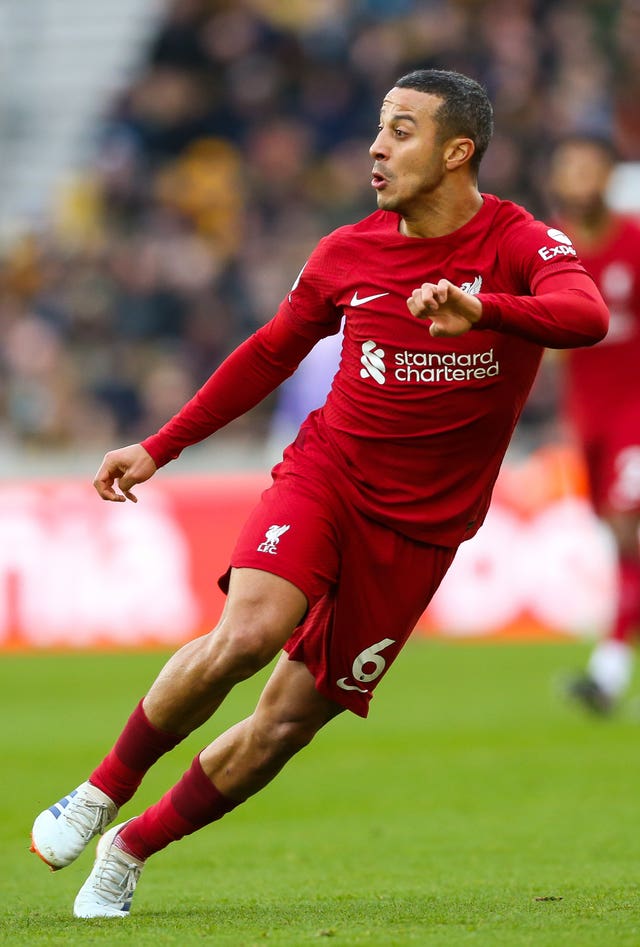 The Spain international has not trained because of a hip problem and his potential absence offsets the likely return of long-term injured forward Diogo Jota.
"Yeah, Thiago has some problems," said Klopp. "I know the problems, but I have to ask the medical department what I am allowed to say about it.
"Hip flexor, stuff like this, that's it pretty much. He wasn't able to train."
Jota has not featured since mid-October because of a calf injury.
"Diogo is the closest, he trains now normal already for two days, so another three days [of] training is possible for him," Klopp added.
"I think he is in contention for the squad, I would say, but we have to wait a little bit."
Fellow forward Roberto Firmino is also closing in on a return, having been out since November, with defender Virgil van Dijk unlikely to be ready for Monday despite returning to individual training after a hamstring injury.