Liverpool manager Jurgen Klopp believes the 242nd Merseyside derby is an opportunity for his under-performing players to produce a reaction and prove how "special" the club are.
Coming off the back of back-to-back defeats to Brighton (in the FA Cup) and Wolves, and with just one victory in 2023, the visit of an Everton side boosted by the arrival of new manager Sean Dyche and a win over Premier League leaders Arsenal is being viewed as either coming at the worst possible time or being the best opposition to get the Reds going again.
Klopp is in the latter camp but he knows for all the positivity shown in training this week what matters is what happens on the pitch at Anfield on Monday.
"All the signs are there, but when I say that now, I know people will sit at home, watch this and say, 'Yeah, but show it on Monday'," he said.
"We see it exactly the same – we have to show it on Monday. Training was so far really good and will be, everything is in the right direction. That's true.
"Aggression is there, determination is there, readiness is there, concentration is there, focus is there, intensity is there.
"Intensity is always an important part of the game and we never went into a derby saying 'It's the derby, I have nothing to say, go for it'.
"After the game we played against Wolves we have to show a reaction again and I know our people want to see that. I want to see that, we have to show that.
"This is not a time we wanted to have or a time we are happy to be in but I think it is a time where we can show if you want to show that the club is really special.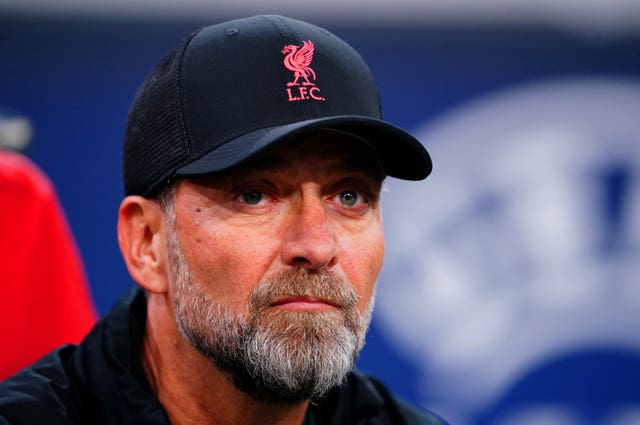 "The boys delivered a lot of great moments in the last few years but in the moment it is not, for different reasons, possible we didn't do it but we are fighting to change the situation in a better direction."
Klopp has lost just one of 16 Merseyside derbies in all competitions in his tenure as Liverpool manager, the only defeat being Everton's first victory at Anfield since 1999 when the visitors won 1-0 behind closed doors during Covid restrictions.
The Toffees arrive boosted by the impact of Dyche, who oversaw their first victory since October last time out against the Gunners.
As Burnley manager he ended Liverpool's long 68-game unbeaten home league run – again behind closed doors in 2021 – and Klopp is aware of the effect his counterpart has had on their rivals already.
"We know it will be a difficult game; Sean Dyche is there and made a massive impact immediately. It was obvious and we have to prepare that and that is what we will do," added the Liverpool boss.
"(Everton are) a very compact side, very good in counter-attacking and set-pieces will be very dangerous for us. That is the team, you could see that in the last game.
"Of course Arsenal was dominant but Everton had really good chances before they scored and the goal came from a set-piece but they could have scored from other moments as well.
"We prepare for the team we saw against Arsenal, that makes sense because they are longer together now so all the plans can be clearer for everyone, but it's not there it is here and we have to make sure that is clear as well."