Liverpool manager Jurgen Klopp admits his side "were around when miracles happened", but accepts their destiny is not in their hands this time when it comes to Champions League qualification.
A month ago the club were in eighth, 10 points adrift of fourth-placed Manchester United, but six successive victories have propelled them to fifth and only a point behind their rivals, who have a match in hand.
It was suggested to Klopp his squad have performed remarkable comebacks before, not least when overturning a 3-0 first-leg deficit to beat Barcelona in the semi-finals of the Champions League they won in 2019.
They also came from a seemingly impossible position in the Premier League in 2021 when they they made a late run into the top four, registering eight wins and two draws in their final 10 matches – which included goalkeeper Alisson Becker scoring a 90th-minute winner at West Brom – having been completely out of the running in March.
"It is not that we mention it but everyone who was involved in these moments will never forget it in our entire lives," said Klopp.
"That means it is part of us and, you are right, we were around when miracles happened, that is true, but it was then still in our hands.
"We had to score against West Brom and we had to win against Barcelona. Now we have to win but that does not mean anything changes because the other teams could win all their games.
"I knew weeks ago it was completely out of sight, I couldn't see it at all, but that did not mean we would not try to get closer. That's the only thing we did, we got closer."
Klopp recalls Liverpool being in the position of the team being chased in his second full season in 2017-18, and he knows it is not easy for the clubs in possession of the qualification places.
However, he does not believe their recent run, coupled with recent defeats for third-placed Newcastle and United, has been able to exert that much pressure on their top-four rivals.
"I am pretty sure we were in a situation like that years ago. I think Chelsea was winning all the time behind us so we had to win all the games," he said.
"It's not comfortable but in the end we made it anyway. Newcastle and United would be happy if we would not be there any more, but still it is more likely they will do it.
"I respect that. If they finish the season above us, they deserve it and that's how I see it."
Forward Roberto Firmino is set to return to training next week ahead of what could be his final Anfield appearance.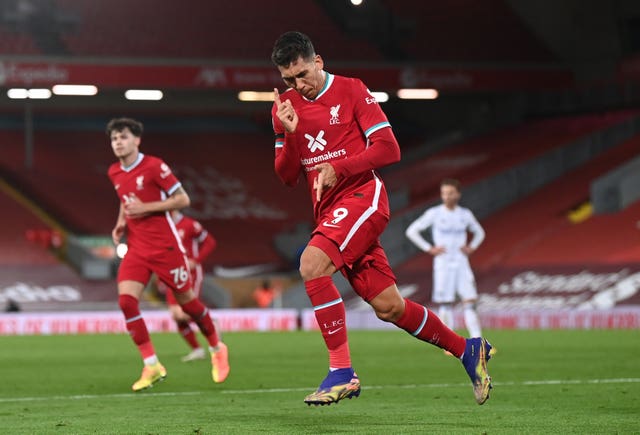 The Brazil international is leaving when his contract expires at the end of the season but has missed the last five matches with a muscle problem.
With Liverpool having only one more home game, against Aston Villa next Saturday, there was a chance the 31-year-old would not get to say his goodbyes on the pitch.
But Klopp raised hopes Firmino could be in his squad for an emotional send-off.
"I saw Bobby in training yesterday and it looks like pretty much he is nearly there, but I don't think he will be in for the weekend," said the Reds manager.
"If I go out of here and he will be in the session, I would be surprised.
"I assume that we start with him team training-wise after the Leicester game."