Liverpool manager Jurgen Klopp refused to contemplate the benefits of a season without European football as he remains determined to keep his side pushing until the end of the current campaign.
With hopes of a top-four finish fading by the week – they head into Sunday's clash at home to Premier League leaders Arsenal 10 points adrift of Manchester United – the consolation would likely be the Europa League or even Europa Conference League.
Given the midweek rigours of any UEFA competition, a year without European football could prove beneficial to the Reds and their rebuilding process, but Klopp will not think about that until Liverpool's fate is decided.
"It is not about what I could consider, it is about what we get. I don't know where we will end up," he said.
"What I know is that we have to go through this. That's it, that's what I know, and then there will be a new start naturally because it's a new season.
"But until then we have to go through this and that's a super challenge, a massive challenge obviously in this (modern) world.
"Imagine if we lose the next 10 games and I would still sit here and say: 'Next season we will turn it around,' or whatever.
"It's hard to believe that happening but here at Liverpool, theoretically, it could happen.
"If we really want to go through this we have to accept the things that happen afterwards.
"So the lower we finish this season on, the easier it will be to improve next year. Is it enough? I don't know. But it is not about that in the moment.
"We can't care about top six, top four, whatever. We have to care about the next game, win a game and another and another and we are capable of doing that."
Klopp made six changes for the dismal draw at Chelsea in midweek, including dropping the likes of Mohamed Salah and Trent Alexander-Arnold.
While Salah has, like the rest of the squad, performed below his usual high standards he has not had the scrutiny which has come Alexander-Arnold's way as a defender.
With Virgil van Dijk (after illness) and Andy Robertson (rested) both set to return to the back four, Klopp could continue with Joe Gomez at right-back to face Arsenal.
But either way he stressed that should not mean it makes Alexander-Arnold a talking point yet again.
"Not as good or consistent as he used to be, like pretty much all of the boys," was the manager's assessment of the full-back's form this season.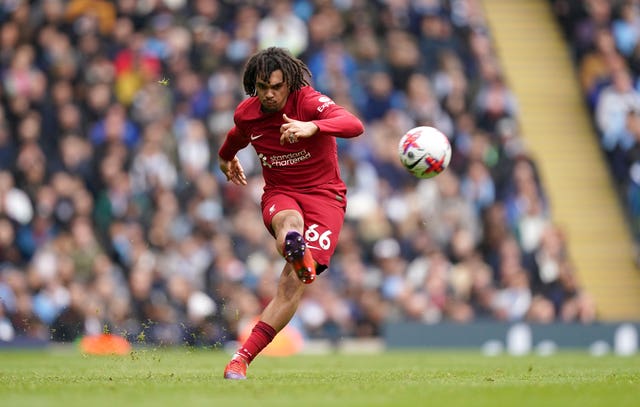 "Do you expect me to say he played a world-class season and I leave him out anyway? That makes no sense.
"No, nobody performed on the level we saw and the level we know they can.
"In moments, yes, of course. Great games, fantastic games, super situations but consistently nobody, no. Him not as well."