Jurgen Klopp hopes Liverpool can build on their encouraging derby victory in Saturday's "massive" clash with Newcastle.
The Reds ended a four-game winless run in the Premier League in 2023 by defeating Everton 2-0 on Monday and another victory over Newcastle would be a major boost to their hopes of making a late charge into the top four.
"It's a massive game," said Klopp. "If we want to reach something this season, we have to chase everybody and especially the teams ahead of us in the table.
"It's not easy, it will never be easy, but the only way you can do it is give it a try and that's what we have to do.
"It's a tough one, Newcastle, best defence in the league, lost only once I heard now, didn't even know that.
"It was against us and we needed a late, late goal. So obviously they're very, very consistent, which is the first step to success always.
"It's a tough place to go, was always for us, hopefully we can build on the performance from Monday because that was obviously the main difference to other games we won.
"After the World Cup we won two games but we were not overly happy with the way we played, so you cannot really build on it. This time it was different. It looked like us.
"People said after the game that Everton didn't do this or that as much as they did against Arsenal. I really think it was because we did particularly well. That's a point to prove again tomorrow."
Liverpool sit nine points behind fourth-placed Newcastle but have a game or two in hand on most of the teams above them.
As well as the performance against Everton, they can take confidence from their victory over the Magpies in a feisty encounter in August.
Newcastle boss Eddie Howe, meanwhile, took exception to comments from Klopp about the spending power of the Magpies, but the Liverpool boss was gushing in his praise for his opposite number on Friday.
"Eddie's doing an exceptional job, absolutely exceptional," said the German. "The financial possibilities they have or will have in the future, it's exceptional, but so far it's not because of that, not at all.
"Eddie came there in a difficult situation. They stayed comfortably in the league then the new season it's not like you didn't recognise the team any more.
"It was building on the team they had, improving players who were there. It speaks volumes about the manager, how much he turned it around and made them a proper threat for everybody."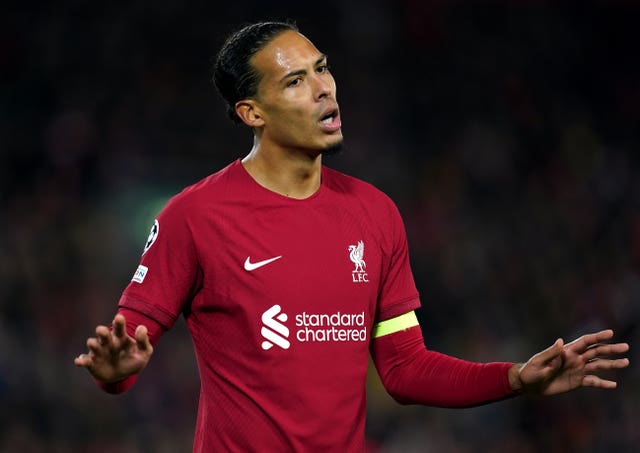 Klopp's spirits have also been boosted by players returning from injury, and Virgil Van Dijk could make his first appearance since the beginning of January after being on the bench against Everton.
"Yesterday he looked absolutely ready," said Klopp of the key defender. "I think today he will look the same and then we make a decision."
Roberto Firmino and Diogo Jota both returned from long spells out as substitutes on Monday and Klopp knows both will need time to get back up to speed.
"Whatever you do on the training pitch, these first 10-15 minutes in an intense game, it's torture," he said. "They could train properly the next day and that's obviously very helpful for this week."
Young defender Calvin Ramsay, though, will miss the rest of the season after undergoing knee surgery.
The 19-year-old has managed only two appearances for Liverpool since joining the club from Aberdeen last summer.
"We cannot play catch-up all the time with him because he is a great talent, a real talent, who had the most unlucky start possible," said Klopp.