Liverpool manager Jurgen Klopp will not underestimate the threat Tottenham pose after admitting he thought their capitulation at Newcastle last weekend was a "joke".
Klopp tuned in last weekend to watch Sunday's opponents and saw them concede in the second minute but then left the screen to attend to something else and when he returned he could not believe what he was seeing.
"I came home, switched the TV on it was 1-0. I had something else to do and wanted to watch the game a bit later and when I came back and it was 5-0," he said of the 6-1 defeat which cost interim head coach Cristian Stellini his job after just four matches.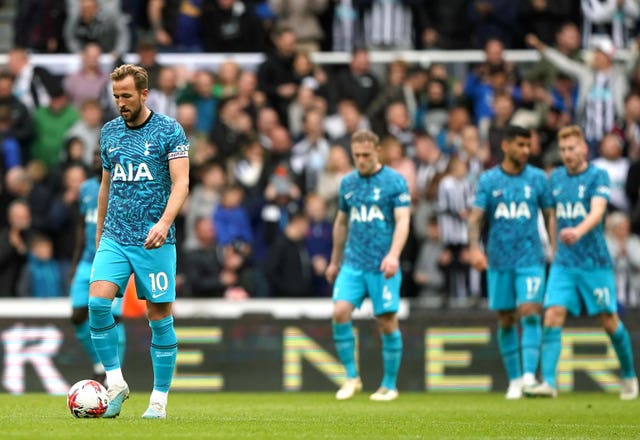 "I honestly thought there was something wrong with the screen. Somebody had made a joke or something."
New interim head coach Ryan Mason secured a 2-2 draw from 2-0 down to hold Manchester United on Thursday and that is why Klopp is wary this weekend.
"I have no clue what happened at Tottenham. I see Harry Kane, I see Son (Heung-min), I see (Dejan) Kulusevski, I see (Ivan) Perisic, Richarlison, (Pierre-Emile) Hojberg and so on and they all have played exceptional football during their careers.
"We realised this season that we had some problems in moments and maybe other teams thought, 'oh its a great moment to play Liverpool' and maybe it was, I don't know.
"But if I am in the other camp I would never have imagined that Liverpool would show up weak and I cannot think about Tottenham in any other way apart from I expect them to be really strong.
"Give them one ball and it could be the wrong one and they go up in front of your goal and Harry Kane can score from pretty much everywhere.
"They still have this quality and that is the real threat and we have to make sure they cannot show it…
"But that is always the same, in the best Tottenham moments or the less-good Tottenham moments. I respect a lot the quality of their team."
Klopp has taken issue this season with what he believes are media misconceptions about his team and their problems but he also knows the echo chamber of social media has amplified issues.
"It is good that in this case that we make the decisions and we don't let the people make the decisions who write on social media," he added.
"If you go to social media you think, 'oh my god, there is no bigger problem in the world than our midfield'.
"I understand it 100 per cent. Somebody showed me after the West Ham game a thing on Instagram when people find out our line-up and what they write about it and not a lot of them wanted Curtis (Jones) on the pitch, not a lot of them wanted Cody (Gakpo) on the pitch and when they saw Joel Matip was playing they say, 'how can they do that?'.
"I understand this season makes people nervous, I understand that we were not ourselves in big parts of the season.
"That's it but we still have to make good decisions and not panic decisions.
"Where they are saying, 'that's it for them, he will never come back, he will never be able to play football' – that is not how it is."