Everton manager Sean Dyche has been too busy to have any consideration for Liverpool's current struggles but he does empathise with the difficulties counterpart Jurgen Klopp is having.
The Toffees head to Anfield on Monday with momentum after their morale-boosting win over Premier League leaders Arsenal last weekend while their hosts are still scrabbling around for form with just one win in 2023.
Dyche is only in his second full week since taking over from Frank Lampard and with time precious in transferring his ideas to the squad, what is happening across Stanley Park is of minimal concern.
"My focus is on Everton, making sure we are right without worrying about anyone else," he said.
"There is no sympathy (for Klopp), it is empathy. As a manager you have an understanding of others but he certainly doesn't need my sympathy, someone as experienced as him and what he has done in the game.
"I have total respect for all managers because it is a very difficult job. There is an understanding and a shared feeling as I've been through it myself."
The win over Arsenal – their first in any competition since October – has completely transformed the mood at Goodison Park.
Over at Anfield, after demoralising defeats against Brighton in the FA Cup and Wolves in the league, Klopp is battling to turn around a failing season.
"They have been pretty much on the up for a long time and it is difficult to constantly remodel and rethink," added Dyche.
"The way football works is very difficult to constantly keep achieving all the time. Maybe they are just having one of those spells and it changes. It is yet to be seen.
"I've not been up close and personal with them but they still have some very good players and I won't be over-thinking their form.
"They are a very experienced group in many ways and the manager is. That has to be parked.
"They are having a tough little spell but it is rare that teams don't have that at some point over a long tenure like Jurgen Klopp's."
Liverpool have been something of a soft touch this season, regularly conceding the first goal and not recovering and also being exposed at set-pieces – which Dyche prides himself on his teams being able to maximise to good effect, with James Tarkowski's winner against Arsenal an early example.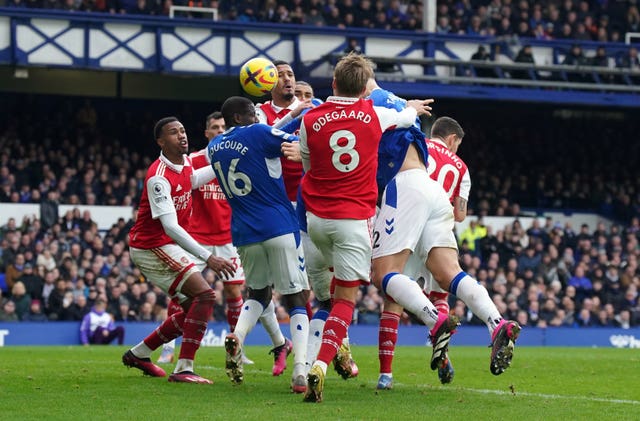 "You want to exploit everything in a game of football, every chance you get," he said.
"Everything is important in a game of football, no matter who you are playing against.
"It is not about one thing that a team might be getting right, it is about all of it. I've spoken to the players not just about the Liverpool game but about the way we work and about trying to build that automatic behaviour all the time."