Manchester City manager Pep Guardiola denied he disrespected Liverpool after celebrating wildly in front of substitutes Kostas Tsimikas and Arthur Melo during the 4-1 victory at the Etihad.
The home side were trailing to Mohamed Salah's 17th-minute opener when a quick, sweeping move from right to left set up Julian Alvarez to equalise from close range.
It prompted Guardiola to erupt with multiple double fist pumps in his technical area at exactly the moment Tsimikas was walking past, and the City boss back-pedalled to keep ahead of the left-back to continue his celebrations.
He then extended that to on-loan Juventus midfielder Arthur, shaking the players' hand and engaging the Brazilian in conversation.
BT Sport pundit Rio Ferdinand said of the incident, "I don't know how Tsimikas hasn't pushed the opposing manager Pep Guardiola out of the way" but the City boss insists he meant no offence.
"I was happy and I said how nice our goal was. That's all," he said.
When asked if it was an attempt at humour he replied: "Of course. Come on."
But when it was suggested to Guardiola his actions could be construed as provocative, he added, somewhat sarcastically: "Nah, come on. I'm so sorry.
"Speak with Tsimikas, speak with the others. Ask him if I lack respect. I celebrate the goal with my son on that floor (the tier above).
"And I said, 'The goal was nice, isn't it'. That's all. I'm so sorry. Do you think it's a lack of respect? Ah OK, sorry. I'm so sorry."
City went on to comfortably win the game after Kevin De Bruyne's goal 53 seconds after half-time provided the platform for further strikes by Ilkay Gundogan and Jack Grealish, who put in a man-of-the-match performance.
Guardiola said the £100million winger was "amazing" but still wants him to produce more after scoring only his fourth goal of the season and his first at home since December 2021.
"All season I've been really, really pleased with Jack. He believes completely. The way he behaves when he wasn't playing at the beginning was exceptional.
"Today he was amazing, I liked the standing ovation (when he was substituted in the 89th minute), he deserved it. All season he was playing well.
"You can judge the block to Salah (when he was the last defender in a two on one), it could be 2-0. Football is more than the stats.
"The way he gave us the right tempo to play and make the extra passes, I can't imagine, (being) the big name he is and the price the club paid, the humility to run. That means a lot to me and the team.
"At the same time he has to score more goals at home."
Even after scoring first Liverpool were hardly in the game but could rightly have complained that City midfielder Rodri was not sent off for a second bookable offence shortly after his first yellow card for pulling back Cody Gakpo with the score at 1-1.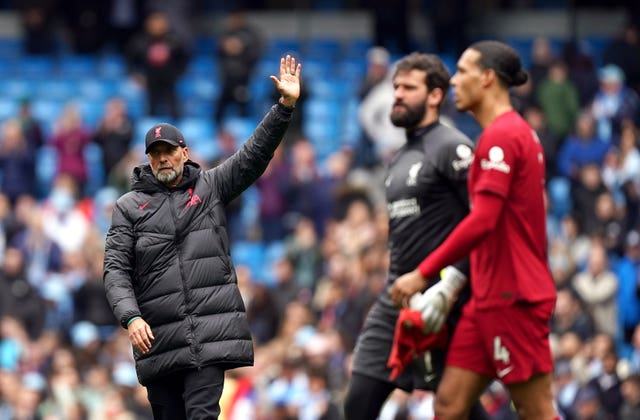 But dejected manager Jurgen Klopp admits they did not do enough to come close to even drawing the game as his side faced the ignominy of the Etihad crowd celebrating every touch by the home team in the closing stages.
"Could he have got a second yellow? Yeah, probably. He will not get it now. I am not sure we would have won today against 10 men to be honest," Klopp said.
"Not being good when you don't feel 100 per cent is not possible in the Premier League and that's what happens in the moment.
"Again we conceded two quick goals and then it is super-difficult if not near impossible to come back from a two-goal deficit here.
"But we can make it more difficult for them if you stick to the things you did in your good moments and that was not there any more and that's why the difference was so massive. Wow.
"It's not nice to be part of a time when the crowd starts, 'Ooh, ooh' with every pass. It's not nice but it still happens from time to time."