Manchester City are keeping Liverpool guessing over the availability of Erling Haaland for Saturday's Premier League clash at the Etihad Stadium.
The prolific striker withdrew from Norway's recent Euro 2024 qualifiers after suffering a groin injury in City's last outing against Burnley in the FA Cup a fortnight ago.
The 22-year-old, who has scored 42 goals in all competitions this season, was due to be assessed after a training session on Friday afternoon.
Speaking at a press conference earlier in the day, manager Pep Guardiola said: "Erling is recovering. This afternoon we have the last training session and we'll see how he feels."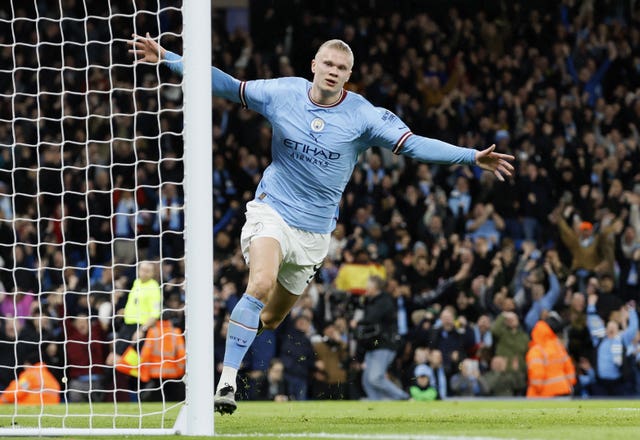 City, who trail leaders Arsenal by eight points with a game in hand, have a big few weeks ahead.
They face Bayern Munich over two legs in the Champions League quarter-finals as well hosting the Gunners in another crucial fixture before the end of April.
It could therefore be a risk to play Haaland this weekend if not fully fit, but Guardiola will be guided by his medical staff.
"We'll see today," the Spaniard said. "In the end the doctors and, especially, the player will decide how does he feel.
"Yesterday I spoke to him and he feels good but we'll see what happens.
"Life is risks in these stages and you have to take it – he's scored an incredible amount of goals – but in the past we have always scored a lot of goals in the season."
City will definitely be without midfielder Phil Foden for the Saturday lunchtime encounter after the midfielder underwent emergency surgery to remove his appendix last weekend.
The England international is also doubtful for the games against Bayern on April 11 and 19.
Guardiola said: "Doctors tell me (he will be out) two or three weeks. We'll see how he develops after the appendicitis surgery."
City have little room for error in the title race and Guardiola is expecting a difficult afternoon against the side that have challenged them the hardest in recent seasons.
Liverpool have fallen away this term and trail City by 19 points, but Guardiola still has huge respect for Jurgen Klopp's team.
He said: "They remain an exceptional team. My opinion doesn't change for one season when they have up and downs. Every club can have this happen.
"Now the biggest rival – this season – is another one, but for one game they can beat everyone. One game is one game.
"The question is about being consistent and always Liverpool have been. This season I don't know why (they have not) and honestly I don't care because I am not there, but, for what happened in the past, this season or the future, they'll always be a big rival."